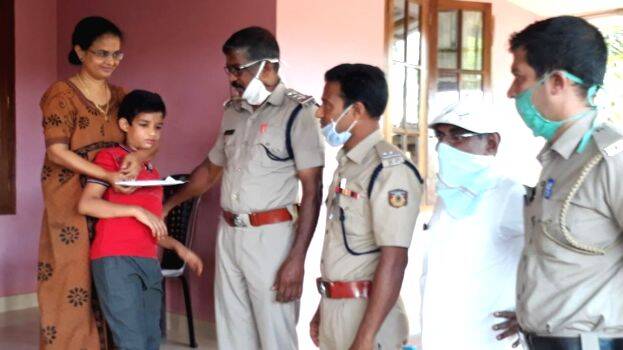 KANNUR: Mother of a 13-year-old endosulfan patient in Periya in Kasaragod runs out of stock of the medicine for her heart disease. The mother and the boy have only each other. If she doesn't consume her medicines, the situation is certain to get worse. Karnataka has closed its borders. As her treatment was in Sree Chithra in Thiruvananthapuram, her medicine is available in the state capital. The family sought the help of the police. The police undertook the mission on Sunday.
Revenue Minister E. Chandrasekharan was informed about it. The prescription was sent to Thiruvananthapuram through WhatsApp. The medicine was there at a store near Thiruvananthapuram Medical College. But how will the medicine reach the patient who is 542 kilometres away? CR Biju, state general secretary of Police Officers Association, contacted DGP Lokanath Behera. Minister E Chandrasekharan also intervened. After discussing, the police geared up for a relay run.
Distance limit for each jeep was fixed, 19 jeeps to go through eight districts. On Sunday evening, at 5 pm, the first jeep from Thiruvananthapuram began its journey. The medicine was handed over to the next vehicle in Attingal area. At the border in Parippally, the package was taken by Kollam Highway Police. When the medicine reached Kalikkadav-the border of Kasaragod, the time was 5.30 in the morning.
There were another 40 kilometres to cover from there to Periya. Kasaragod Highway Police took the medicine to Neeleswaram Police Station, from there the medicine reached home.
As lockdown was imposed by the Union Government, 30,000 police officers work day and night across the state. The officers say they also should be insured in the same way as health officials. Police officers also interact with people like health officials. The police also help stranded people by providing them with essentials and the awareness needed during the lockdown.