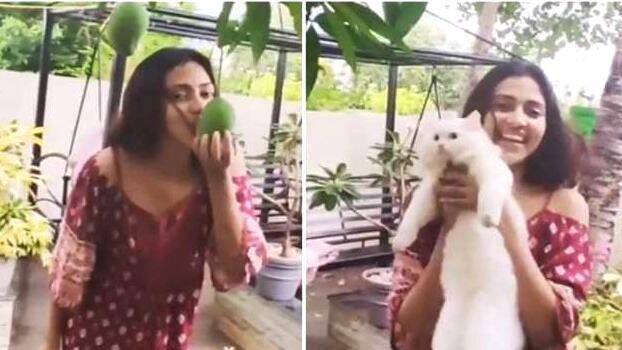 There was heavy rain interspersed with strong wind in different parts of Kerala and other states on Sunday. It came as a respite for people in this summer times amid Corona lockdown.
Many took to social media to express their feeling about the unexpected shower.

Among them, there was also actress Amala Paul, who shared her crazy video on the Instagram page.

Like a prankish child, Amala steps out her house and wanders through her beautiful garden, doing swirls at times, kissing mangoes, cuddling her pet cat Moon and playing with two other doggies.

In between, Amala's mother's voice can be heard in the backdrop. "Have you gone mad when it just drizzled? Then, how would it be if it rains cats and dogs?" However, Amala goes on with her celebration of rain without listening to what her mother says.
She adds her thoughts to her video thus:
"Everything First Is Special.
First Rain In The Lockdown.
Our Little Baby Moon's First Rain.
Oh 2020's First Mangoes
And My First Journey Of Self Love And Healing.❤️
Rain Is A Happy Sign From The Universe. .
DOP and dialogues : Mom ❣️😂
.
#homeiswhereloveis