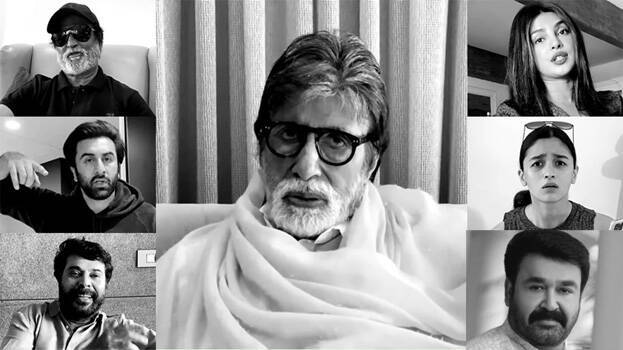 The world has come to a halt due to the outbreak of COVID-19. The country is in lockdown for days. All stars are at their homes as shooting and all have been suspended. Now, a video that has gone viral on social media is quite amazing. The Indian film fraternity is in search of sunglasses which have gone missing from Amitabh Bachchan's house. Stars from all over the country including Mammootty, Mohanlal, Rajinikanth, Ranbir Kapoor, Alia Bhatt, Priyanka Chopra, Sonali Kulkarni, Chiranjeevi, Shiv Rajkumar, Prosenjit Chatterjee are behind Big B's glasses.
How did these stars come together during the lockdown? This is a short film Family with all stars directed virtually by Prasoon Pandey in collaboration with Sony Pictures Networks India, Kalyan Jewellers and Amitabh Bachchan. The film was conceived and staged in different parts of the country.


The film talks about the importance of staying indoors, social distancing and maintaining hygiene in times of the deadly disease. At the end of the film, Bachchan called the Indian film industry a "family" and said that the film fraternity would make donations to daily wage workers of the film industry, who are most affected by the coronavirus lockdown. Sharing the video, Amitabh Bachchan tweeted: "When you see that the cause is greater than the idea you dreamt of... There is just immense joy and gratitude for all my colleagues and friends in the making of this historic effort! We are one and we shall overcome!"