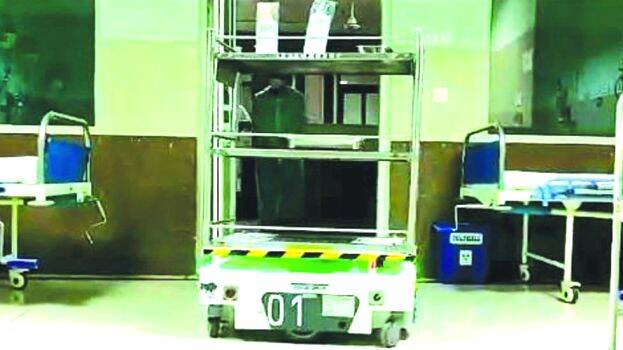 KOLLAM: A group of Malayali engineers in Delhi has developed a robot to help health workers in their fight against the novel coronavirus. The robot named 'Novus care' will be used to distribute medicines, food and sanitizers to every hospital bed.
The introduction of the robot will help in reducing the close interaction between the patients and health workers, thereby reducing the risk of virus spread. Novus care has already been successfully tested at the COVID-19 ward in ITBP hospital.
The robot, which will run on four wheels, has a lidar sensor and a camera attached to it. A stand with several compartments is fixed on top of the robot which will be able to carry a load of up to 100 kg. A route map of the hospital ward will be prepared for the robot using the navigator facility. The robot will distribute medicine and other essentials as per the instructions given to it using a computer which will contain the details of all the patients.
Novus care has been prepared by a team of Malayali scientists. They are Jogesh S Nanda from Kollam, Muhammad Abdul Basith Ali from Palakkad. Rahul Krishnan from Thiruvalla, Rahul Raveendran and Milan Micheal from Kochi. According to them, even though the test run was done at ITBP hospital in Delhi, the service of 'Novus care' will be soon made available at the Apollo Hospital. Novus care, manufactured by Hightech robotic solutions, will cost around Rs 10 to 15 lakhs.