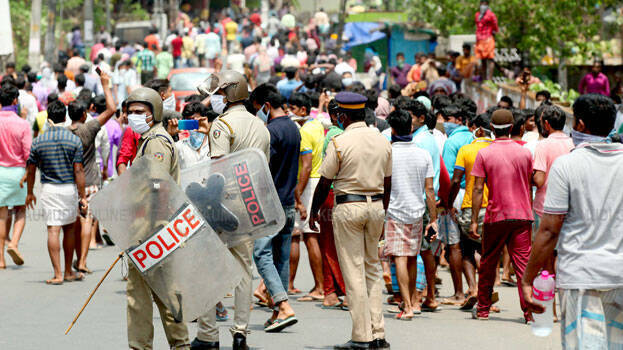 KOTTAYAM: Police started awareness and advice sessions in migrant labour camps at Payipad on Wednesday as discontent were brewing in these camps following the extension of lockdown till May 3.
Currently, the police patrol the area to check violation of lockdown. They take route march and use drones to keep the area under close observation. The police have also taken the help of volunteers and home guards to make labourers understand the seriousness of the matter.
Police have asked migrants to live in the camp safely till train services resume, albeit it may take some time. But some of them could not to digest this advice completely.

"Sir, give me permission to go back to my hometown alone on my bi-cycle... It has been six months since I saw my wife and children…they are starving…somehow you will have to give me permission," a labour pleaded with Changanassery DySP S Suresh Kumar.
However, the DySP managed to calm him down and make him feel at home with this advice: The Central government won't give permission for this and travelling now is unlawful. Moreover, you will not be allowed to cross the Kerala border. On the way, Covid may catch you. Even if you reach home, you may transmit the disease to your family members.
Meanwhile, the migrant labourers in the camp told the officer that they were satisfied with food and accommodation provided in the camp.