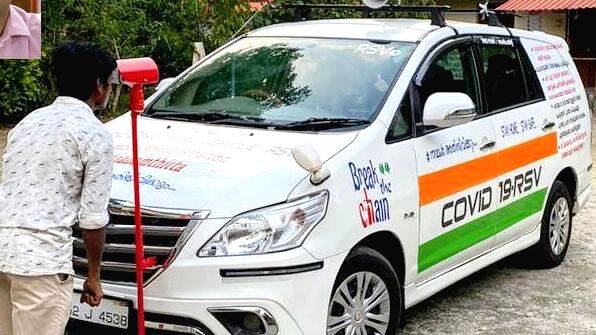 PATHANAMTHITTA: People have started to step out as lockdown restrictions have been relaxed. In light of this, the district administration has rolled out an automated vehicle, COVID-19 Rapid Screening Vehicle (RSV), to facilitate safer and people-friendly screening for coronavirus. So far, 66 persons with fever symptoms have been sent to hospitals.
The initiative is led by Vinay Goyal, Thiruvalla sub-collector, himself a medical doctor. An Innova car was transformed by Goyal and his friends and was rolled out into the streets with the permission of the health department.
The vehicle is equipped with an infrared thermometer that can be operated from inside the vehicle, a microphone system for two-way communication, and a camera to take photos of Aadhaar card or any other identity card of the person to be screened. The screening can be completed within two minutes.
Vinay Goyal and the team are also in the work of another vehicle with facilities for collecting throat swabs of people without direct contact. The vehicle, carrying a medical volunteer, non-medical volunteer, field assistant and driver, can cover 300 people a day.

Dr. Goyal studied at the Post-Graduate Institute of Medical Sciences at Rohtak in Haryana. He said the idea has been envisaged by Vikas Yadav, his collegemate. The total expense for transforming the vehicle is ₹10,000.