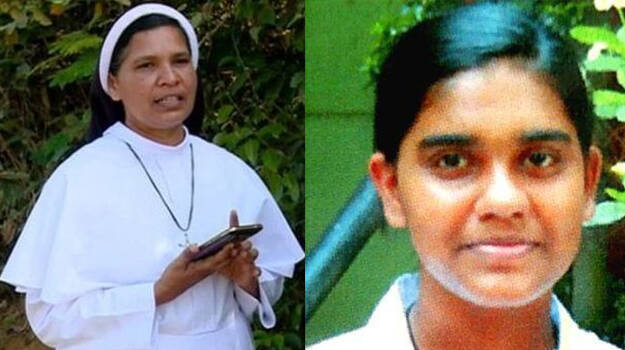 Chungappara native Divya P John, a young woman who was studying to become a nun, in Thiruvalla Paliakkara Beselian Convent was found dead inside a well on Thursday.

Controversial nun Sister Lucy Kalappura has now come out with serious allegations against such dubious deaths in convents. She, on his Face book page, says that there is mystery behind the death of Divya.

Excerpts from Lucy Kalappura's FB post

"I'm writing these lines with deep pain. Today (7/5/2020) we heard the news about how novice Divya P John, who had been living for the past five years in the convent, breathed her last, inside the depths of the well of the same convent after struggling for life-breath.
She was just 21 years at the time of death.

What would have happened to that sweet girl? Who is responsible for her death? Will there be justice at least in this case? Or, will we have to see her parents wandering without getting justice? At least this time, will police plug all loopholes and conduct the probe?
But I have very little hope. Now deaths of nuns have sezed to become big news. All news about human rights violation inside convents have started falling on deaf years again and again…

But I can no more remain a mute spectator to all this. I became a nun after observing penance only to sacrifice my life for this world.
If I happen to lose my life for the mere reason that I spoke out truth, I will consider it as my life's mission. But I can no more keep mum like a dead person seeing and hearing all this…" she writes.

Sister Kalappura also gives a long list of nuns who were found dead in convents under mysterious circumstances from 1987 to 2018. She also mentions the "unholy and immoral activities" happening in certain convents.