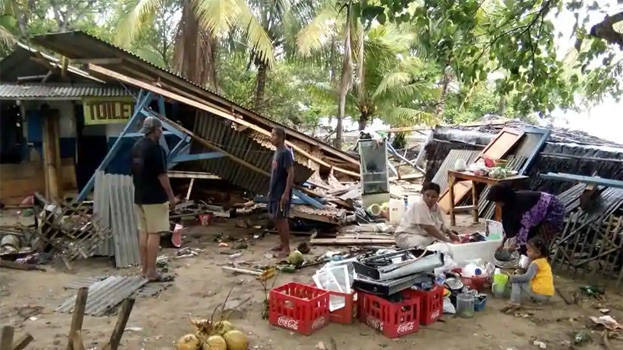 JAKARTA: Some 584 people were injured and hundreds of homes and other buildings were heavily damaged in the tsunami which struck late on Saturday.
The death toll from a volcano-triggered tsunami in Indonesia has risen to 222, with more than 800 people injured, officials said Sunday.
"222 people are dead, 843 people are injured and 28 people are missing," Indonesia's national disaster agency spokesman Sutopo Purwo Nugroho said.
"This number is predicted to increase because not all victims have been successfully evacuated, not all health centres have reported victims and not all locations have got complete data.
Hundreds of homes and other buildings were "heavily damaged" in the tsunami which struck along the rim of the Sunda Strait late on Saturday.
It was the latest in a series of tragedies that have struck Indonesia, a vast archipelago, this year. Successive earthquakes flattened parts of the tourist island of Lombok, and a double quake-and-tsunami killed thousands on Sulawesi Island. Nearly 200 people died when a Lion Air passenger plane crashed into the Java Sea in October.
Authorities warned residents and tourists in coastal areas around the Sunda Strait to stay away from beaches and a high-tide warning remained in place through till December 25.
"Please do not be around the beaches around the Sunda Strait. Those who have evacuated, please do not return yet," said Rahmat Triyono, an official at the Meteorology, Climatology and Geophysics Agency (BMKG).
TV footage showed roads blocked by debris from damaged houses, overturned cars and fallen trees. The water washed away an outdoor stage where a local rock band was performing, killing at least one musician. Others were missing.
On December 26 in 2004, an Indian Ocean tsunami triggered by an earthquake killed 226,000 people in 13 countries, including more than 120,000 in Indonesia. The eruption of Krakatau in 1883 killed more than 36,000 people in a series of tsunamis.
Endan Permana, head of the disaster mitigation agency in Pandeglang, told Metro TV police were providing assistance to victims in Tanjung Lesung in Banten province, a popular tourist getaway not far from the capital, Jakarta, as emergency workers had not arrived.
The western coast of Banten province in Java was the worst-hit area so far, said Sutopo Purwo Nugroho, spokesman for the national disaster mitigation agency.
At least seven people were reported dead in Lampung in southern Sumatra.
Rescue workers and ambulances were finding it difficult to reach affected areas because some roads were blocked by debris, said Ketut Sukerta, head of the disaster agency in South Lampung.