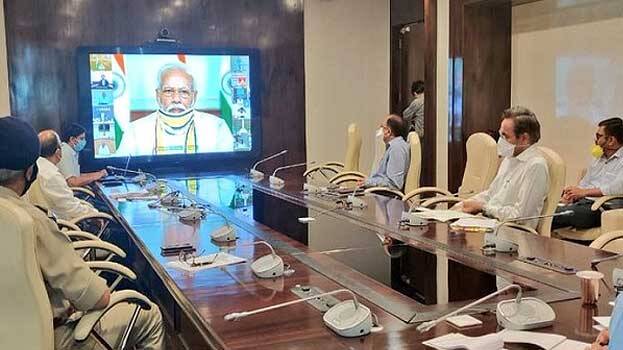 NEW DELHI: "I am working on ways on how to open up the economy", Prime Minister Narendra Modi told all the Chief Ministers of different states and Union Territories on Monday during his fifth video conference meeting with them, said sources.

Modi added that going forward, the economic activities which have been restarted will gain steam. He also asked the state governments to ensure that rural India remains free from the Covid-19 crisis.

While West Bengal Chief Minister Mamata Banerjee had hit out at the Centre asking the PM to respect the federal structure, contrastingly PM Modi sent out a message of working together. He is believed to have told the Chief Ministers that "We will win this war against Corona because of your energy and help".

However, there had been a few Chief Ministers who couldn't make themselves heard during the 5.5 hours long video conference. PM Modi asked them to send their suggestions by May 15.

Though states like Maharashtra, Punjab, West Bengal and Telangana have insisted on extending the current lockdown, there have been states like Delhi that wanted greater freedom to open up economy save the containment zones or Andhra Pradesh that pitched for inter-state transport service's resumption.

While no formal word has come so far, some more relaxations, particularly with an eye to provide a much needed push to the economy, may be given by the Centre.

Maharashtra Chief Minister Uddhav Thackeray vociferously made a pitch for the extension of the current lockdown, stating lifting it will grossly impact the state's efforts to contain the virus. Maharashtra has been the worst-hit with more than 22,000 cases of Covid-19.

West Bengal Chief Minister Mamata Banerjee, who was believed to be in a fiery mood, also pitched for the extension. Punjab too is inclined towards an extension given the spike in numbers after many migrants from Maharashtra reached back home. Earlier, in an exclusive interview to IANS, Punjab Chief Minister, Captain Amarinder Singh blamed Maharashtra government's "negligence" for Punjab's "sufferings".

Amarinder Singh also sought a well-crafted exit policy and economic empowerment. He urged PM Modi that zoning should be left to states. He also sought fiscal aid for states to meet at least 33 per cent of committed liabilities.

This was Prime Minister Narendra Modi's fifth such interaction. Sources said the focus of the meeting was on further increasing economic activities and on tackling the pandemic in containment zones as the lockdown 3.0 is to end on May 17.

The lockdown, enforced on March 25, was originally supposed to end on April 14. It was then extended to May 3, and then again to May 17.