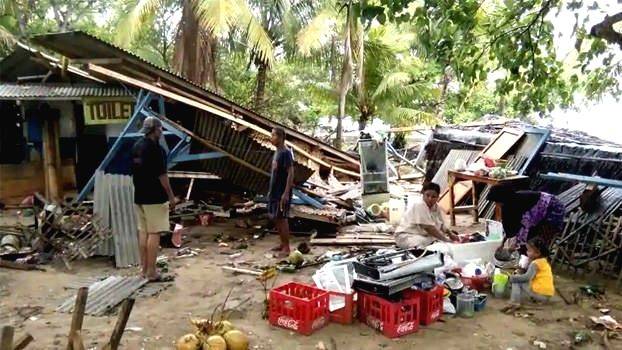 JAKARTA: At least 222 people have lost their lives in the devastating tsunami that struck Sunda Strait on Saturday night, an official from Indonesia's National Disaster Mitigation Agency (NDMA) said on Sunday.
The Agency also noted that 834 people are reported to have been injured and 28 people missing due to the natural disaster caused by a combination of underwater landslides and volcanic eruption.

The tsunami has caused massive damages to properties, including hotels, coffee shops, and houses, as the rescue operations are still underway.
The head of public relations at Indonesia's NDMA Sutopo Purwo Nugroho, took to Twitter, stating, "The number of victims and tsunami damage in the Sunda Strait as of 23/12/2018 at 4:00 pm recorded 222 people died, 843 people were injured & 28 were missing. Physical damage: 556 damaged houses, 9 heavily damaged hotel units, 60 damaged coffee shops, 350 broken vessels."
Indonesia's Meteorology, Climatology, and Geophysical Agency said that the quake occurred at 9:03 pm (local time) when the Anak Krakatau volcano erupted, adding that the tsunami struck after 24 minutes.
"The Geological Agency detected at 21.03 local time that the Anak Krakatau (Child of Krakatoa) erupted. It's possible the materials around Anak Krakatoa collapsed to the sea and triggered the tsunami and affected beaches around Sunda Strait," the agency said in a statement.
The department further said that the tsunami was in all likelihood caused by a combination of underwater landslides in the aftermath of the volcanic eruption in Sunda Strait, some 156-km west of Indonesian capital of Jakarta.