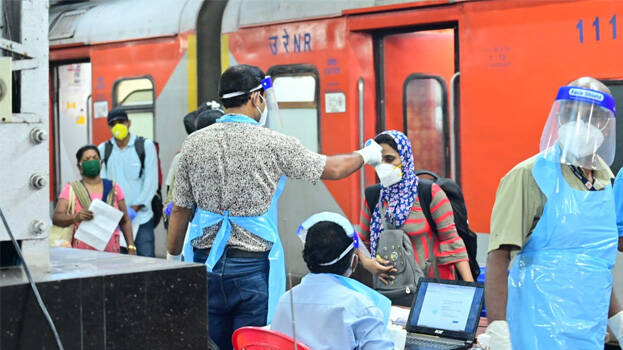 THIRUVANANTHAPURAM: The first Rajadhani Super-Fast special train (02432) from New Delhi to Thiruvananthapuram since the beginning of the nationwide lockdown reached the capital city. The train reached Friday morning at 5.15 am. There were 400 passengers in the train. One person who showed symptoms of COVID-19 has been shifted to General Hospital. The train reached Kozhikode Railway station, the first stop in the state at 10 pm Thursday night.
198 passengers disembarked at Kozhikode and 269 at the second stop in Ernakulam. The train reached Ernakulam South Junction at 1.40 am. Though 216 passengers booked for Kozhikode, 18 cancelled at the last minute. Six passengers landed at Kozhikode showed symptoms of the virus and they have been shifted to the medical college hospital. There were one AC first class coach, five second AC and 11 third AC coaches. Arrangements were made to examine the details of passengers in stations including Kozhikode.
Employees of health and police departments examined the documents in help desks on district basis. Passengers showing no symptoms after medical examination was sent to 14-day mandatory home quarantine. Institutional quarantine facility was arranged for those who cannot follow home quarantine. People showing symptoms were subjected for further examination and employees of the health department arranged facilities to take them to treatment centres if required. The luggage of the passengers were disinfected.
Vehicles with drivers only were permitted to take passengers home. The driver should later go into quarantine. People with no symptoms were sent homes in KSRTC buses and own vehicles in their respective districts.
The train scheduled to reach Thiruvananthapuram railway station at 5.25 am reached at 5.10 am. Some complained of fever. Health workers are constantly in touch with them.
The first bus left for Pathanamthitta. Only 25 people are permitted to travel in a bus. Pregnant women and aged included in it. All have been directed to go into home quarantine.