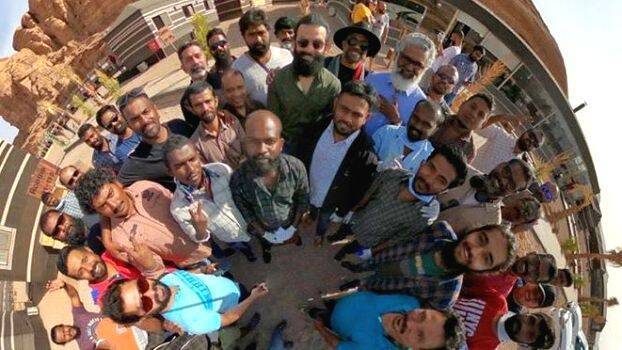 Actor Prithviraj took to social media to share a fisheye image of the crew of Blessy film Aadujeevitham to reveal that the Jordan schedule had been wrapped up. He wrote, "#Aadujeevitham Schedule pack up! (sic)," with a heart emoticon.

Prithviraj Sukumaran and his Aadujeevitham team have been stuck in Wadi Rum in Jordan for the past two months. The 58-member team went to Jordan for the film's shoot on March 16 and got stuck when the lockdown was announced to curb the novel coronavirus pandemic.

Despite that, the team continued shooting with a special permission from the Jordan government but shooting had to stalled as curfew was announced in Jordan. By that time, lockdown was also declared in India and they couldn't return to India.

In April, Blessy dashed a letter off to the Kerala government and the Film Chamber asking them to rescue the team from Jordan. In the letter, he also expressed his concerns on food shortage. However, the problem seems to have been sorted out with the intervention of Kerala, Indian and Jordan governments, it is reported.