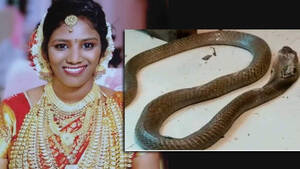 KOLLAM: There is a mystery in the death of the woman following a snake bit while sleeping in her house in Anchal. District crime branch DySP has started a probe on it. Uthara (25), wife of Sooraj of Anchal Eram Vellsseri House, died after a snake bite on May 7. Her relatives told police that the snake bit her when she was sleeping in the bed. She was bitten by a snake twice in a month. SP Harishankar said the investigation was handed over to district crime branch following complaints lodged by her parents suspecting the hands of her husband and Sooraj who alleged her brother's role in the incident.
The question was how the snake entered the room even after the door and windows of the AC room were closed. A snake had bitten her in March when she was in her husband's house in Adoor. The second time the snake bit her was when she was undergoing treatment for that in her house in Anchal. Snake biting her twice in a span of one and a half months and her death led to superstitions. A cobra was recovered from the room and the residents nearby beat it to death. Both sides alleged that the snake was put in the room with the help of snake catchers as part of a planned attempt to possess her property. Both sides approached the rural SP at a time when the Anchal police was probing the case.
The post-mortem report has not obtained yet. Only after getting it, the reason for the death will be ascertained. Uthara's parents told police that Sooraj has close connections with snake catchers. Her parents had mentioned that Uthara is slow in grasping things. She was the daughter of Viswanathan and Vijayalekshmi. Druv is her only son.