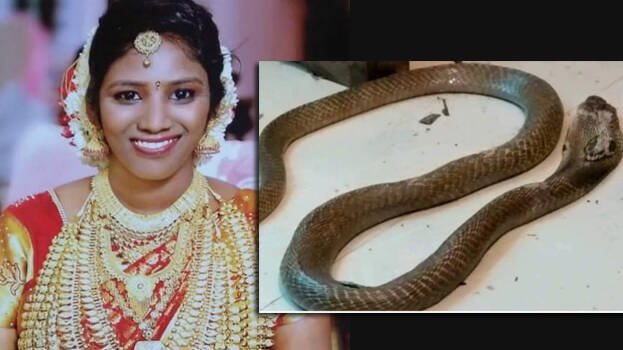 KOLLAM: The investigation into the alleged snake-bite death of Anchal native Uthara is heading in a new direction. According to reports, the police have got evidence to come to conclusion that the snake was deliberately put inside the room of Uthara in a suspected attempt to kill the young woman.

The arrest in the case is likely to happen soon.

District Crime Branch DySP A Ashokan and team had collected some evidence from the house of Uthara (25) at Vellassery Eram.

The statements of close relatives of Uthara were recorded and examination of the 'crime' scene was done on Saturday.

The investigation team has made an assessment of all possibilities of snake entering her room.

Uthara's husband Sooraj had on Friday told the police that the snake might have entered through the open window in the room where AC is installed. It was near this window that Sooraj slept on that day and Uthara slept on another bed in the opposite side. In that case, his head's positon should have come near the open window and the snake should have slithered over Sooraj's body or bed, came down to the floor and get into Uthara's bed to bite her.

The investigation team's inference is that the chance for this is very little.

It was only after Uthara's parents lodged a complaint with Rural SP Harishankar that Sooraj gave a complaint to the SP, stating that Uthara's family was humiliating him and her brother had role in her death.

When Uthara was staying in her husband's house in Adoor, she had seen snake in her room two times. Once she was even bitten by the snake. On that day, Sooraj didn't take her to hospital immediately and waited for about three hours.

Now, with the death of Uthara, Soorja's behaviour has also changed, according to details collected by the police.

The investigation officers said circumstantial evidence led to the conclusion that it was a murder and therefore the accused would be arrested soon. They had also got the hint that Sorraj, coming from an ordinary family, married Uthara, eyeing her gold and property.