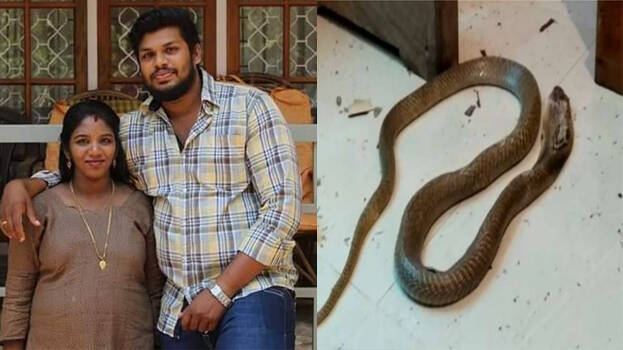 KOLLAM: Latest reports claim that the Crime Branch investigation team has come to a conclusion regarding a youth's involvement in the death of his wife due to snake bite. It is also learnt that the youth, Anchal native Sooraj, has been taken into custody. According to reports, Sooraj had bought a cobra and a viper for Rs 5000 each. His late wife Uthra (25) was bitten twice by snakes.
According to sources, Sooraj had released the cobra from a bag into his bedroom at night on May 6. Following this, the snake bit Uthra twice while he was watching. Since the cobra turned to bite him during his attempt to place it back in the bag, he remained awake all night on his bed without informing anyone.
On the next morning, he informed his family members that Uthra was bitten by a snake. The snake was later found in the room and beaten to death. It is learnt that Sooraj has admitted the crime to the investigating officials. He had apparently bought the snakes from a snake catcher in Chathannoor for Rs 10,000.
Though Uthra was bitten by a viper on March 29 at Sooraj's home, she was saved after the relatives took her to the hospital three hours after the incident. After getting discharged from the hospital, Uthra was taken to her home in Anchal. It is learnt that the snake catcher had no clue about Sooraj's plan. Upon seeing the news report about Uthra's death on television, the snake catcher informed the officials that Sooraj had bought two snakes from him.

Meanwhile, Sooraj is likely to be presented before the court on Monday evening. Uthra's parents had earlier alleged that he had acquired the gold ornaments belonging to Uthra and had been mentally torturing their daughter for the past few months.