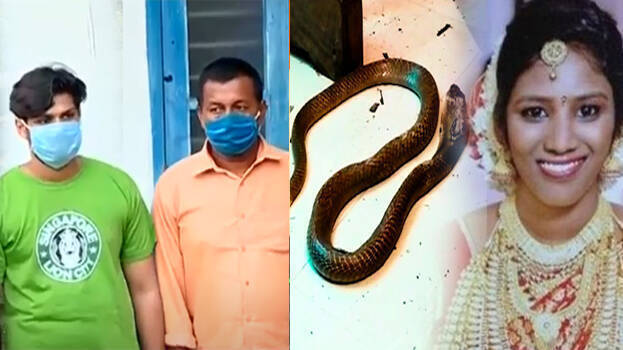 KOLLAM: Soorja, the accused in killing his wife with a snake was brought to the spot to collect evidence He was brought to his wife Uthara's house Monday morning at 5.30 am. The bottle used in bringing the snake was recovered by the investigating officials. The bottle will be handed over to the forensic team.
Evidence was collected by a team led by crime branch DySP Ashok. It was Sooraj who showed the bottle used in bringing the snake from the plot. The accused was brought to her house unexpectedly to collect evidence. Uthara's parents lost their temper when he was brought home. Her mother requested police not to allow him to enter the house.
As there are no witnesses in the case, circumstantial evidences are the most important. As part of it, he was arrested on Sunday and was brought to her house to collect evidence before producing him in the court. Forensic experts will also examine the house.
Sooraj, was married to Uthra, 25, for two years. They have a one-year-old son.

The woman's parents alleged foul play after she died of snakebite on May 7 at her parents' home at Anchal in Kollam where she was recuperating from an earlier snakebite. She was first bitten by a snake on March 2 at her husband's home and was under treatment when another snake took her life. She was first bitten by a viper and then a cobra, and her husband Sooraj was present on both occasions.