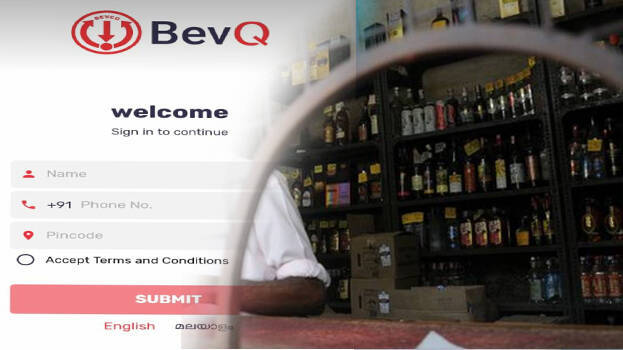 THIRUVANANTHAPURAM: With 'Bev Q' app launched in the state, a heavy rush has been witnessed in the virtual queue. Nearly 20,000 have downloaded the app in two minutes of the trial run. Let us see how liquor can be bought from the app.
1) First download the app from Play Store or app store using your smart phone. Open the app, using the application installed, the customers can generate their own tokens. To generate the token and to ensure one's own position in the outlet--this is possible in this way.
2) When opened the app, the customer can enter the application after giving his name, mobile number and pincode. By selecting the check box, the customer must agree to the terms and conditions. The customer can choose his language.
3) The customer will get a six-digit verification code. The part to enter the code will be shown. The number should be given there. If the customer has not obtained the code, he is able to send it again. Click to send the OTP again.
4) After entering the OTP, the customer can go to the outlet booking page. He can choose either liquor or beer and wine beverage. After the booking is confirmed, he will get a queue number and details of the outlet and the date and time of booking. He can use the QR code to scan the details. Booking will be from morning 6 am to 10 pm.
5) This should be taken care of in order to book a token through an ordinary feature phone or SMS
6) Customers in need of liquor and wine should type it and send it to this number 8943489433
7) Once purchased, the token will be obtained again only after four days. A maximum of three litres can be bought.