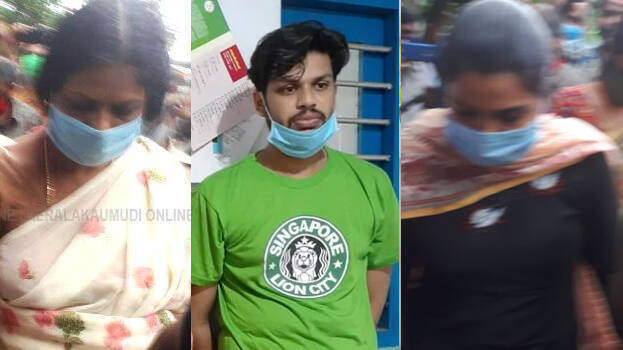 THIRUVANANTHAPURAM: The Crime Branch team investigating the Uthra murder case, on Tuesday, dug up 37.5 sovereign gold that comprised dowry ornaments and the ornaments Uthra's baby got during Noolukettu ceremony.

The gold items were buried at two places near the rubber estate at Sooraj's house in Adoor. Sooraj (the main accused)'s father Surendra Panicker had confessed to the police that the they had concealed the gold soon after the death turned out to be a case of suspected murder. This they did, fearing that they would have to return the dowry gold or police might recover them. There was also an intention to destroy the evidence.
The gold was in the bank locker under Sooraj's name. Surendran told the police that he buried the gold, anticipating that the police would search the locker and cupboards in their house. He did this only after discussing his intentions with his wife and daughter.
The police had taken Surendra Panicker into custody the other day based on his son's statement that his father was aware of his plan to kill Uthra.

Based on the revelations of Sooraj and Surendra Panicker, the police on Tuesday took the former's mother Renuka and sister into custody. They are being interrogated at Kottarakkara district Crime Branch office.
The investigation team is convinced that the they have a role in trying to help Sooraj escape and destroy evidence.
The police have learnt that Sooraj's family had demanded money from Uthra's parents for buying a two-wheeler for his sister. But, Uthra's parents was not ready to give this money and this as reason for the family's vengeance against Uthra.

Uthra's family has been repeatedly saying that Sooraj's mother and sister had role in the murder. On the basis of this statement and already collected evidence, they may be made accused in the case.

The arrest and revelations of Surendra Panikcer had given a twist to the case. His statements vindicate the stand of Uthra's family that Sooraj's family members had sided with him in the conspiracy to kill her, conceal her gold ornaments and harass her mentally and physically.
Sooraj had taken back the ornaments from the locker on March 2. It was on that day Uthra was bitten by a snake for the first time at his house.
After that, while admitting her to the ICU of a private hospital, he had taken possession of 12 sovereign gold ornaments she was wearing at that time, according to the police.
Anchal Eram Vellassery house resident Uthra was found dead on May 7 morning at her house. The cause of death was found to be a mere snake bite at that time.