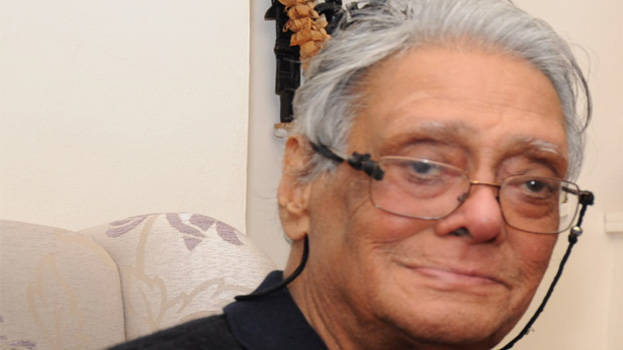 The funeral service and cremation of Krishnan Kutti Menon (89) will take place on Saturday 5th January 2019 at Golders Green crematorium, 62 Hoop Lane, NW11 7NL. The service will start at 10 am and conclude by 10.30.
Krishnan Kutti Menon (89) of Hamilton Rd, Golders Green who dedicated his life for the promotion of South Indian classical music and dance in London has passed away peacefully in hospital. Through London Music Circle established in 1964, Menons encouraged a large number of people to study, practice, sit exams and peform Carnatic music in London.
When masters of classical music came to perform in Londons prestigious venues like Queen Elizabeth hall etc, they did this special performances at the residence of Menon in Golders Green for Krishnan Kutti Menon and friends. Violinist Lalgudi Jayaraman, Lalgudi Vijayalashmi and Lalgudi Krishnan, vocalists: Maharajapuram Santhanam, Priya sisters, Rajakumar Bharathy, SP Ram, Charumathi Ramachandran, R Chandrika, Maruthi Prasad, Bhushani Kalyanaraman were among the few musicians who performed at their residence. That was an unusual treat only Krishnan Kutti Menon and Parvathi Menon were able to provide. He was honoured at the centenary celebration of Kerala Kaumudi in London.
A well-known Marxist throughout his life, he was involved in many political resistances taking place in and around London including the struggle against aparthied in South Africa. He is survived by his wife Parvathi Menon, Daughter Nirmala Achiligam (Australia), son in law Chandran Achilingam and grandson Rehan.
Those wishing to pay their respects prior to the funeral can do so on Friday 4th January between 2 and 3pm at the Funeral Director's offices: Chandu Tailor and Son, Chani House, 13 Lower Park Road, New Southgate, London N11 1QD (please note entrance is via Station Road).
Instead of floral tributes the family would prefer donations to the British Heart Foundation. A donation box will be made available.