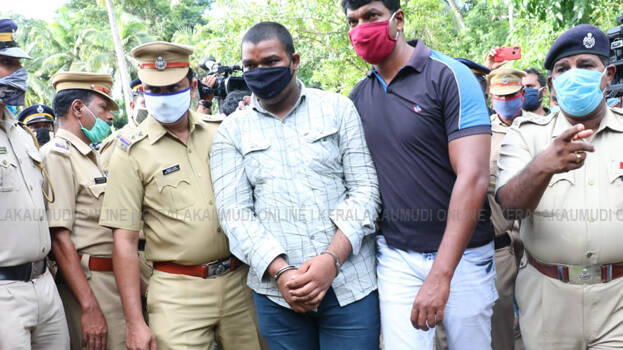 KOTTAYAM: The police will collect evidence from Thanneermukkom for the lost three mobile phones after getting the accused in Thazhathangady murder case. The police is also planning to collect evidence from the lodge in Alappuzha where the accused stayed for three hours. The accused remanded is under treatment at Pala taluk hospital. Muhammed Bilal (23) of Illikkal Chittadi House was arrested yesterday early morning.
Bilal barged into the house of Sheeba (60) and murdered her using a teapoi. He also attacked her husband Sali (65). The condition of Sali undergoing treatment at Kottayam Medical College continues to be serious. An operation was conducted on his head and his condition is very serious. Doctors treating him said one more operation is necessary but his health condition does not allow for another one.
Bilal told police that while leaving Sheeba's house with the car and ornaments, he threw the phones at Thanneermukkom. The police have sought the help of the fire force as the phones were thrown into the water. The police will take him to Kochi where he was hiding secretly.
The police have recovered 28 sovereigns of gold including the bangles, chain and ring worn by her. The car abandoned in Alappuzha was found yesterday itself. It was found covered with a tarpaulin.
Bilal reached Sheeba's house to borrow money from her. He had borrowed money from her earlier also. This time Sheeba refused to pay because he did not return the money borrowed earlier. In between this, he asked for water. When she went inside to get the water, he attacked her husband Sali. When she came running hearing the noise, he hit her on her head with the teapoi. He then searched the cupboard and stole the ornaments kept inside. He then removed the gold worn by her. When he saw Sheeba moving, he tied the couple's hands with a wire. He tried to plug it but there was no electricity. Following that, he kept the gas cylinder open to destroy evidence.
Meantime, a search at the house revealed that Sali had some blade mafia connections. Some blank cheques and other documents were recovered from the house.