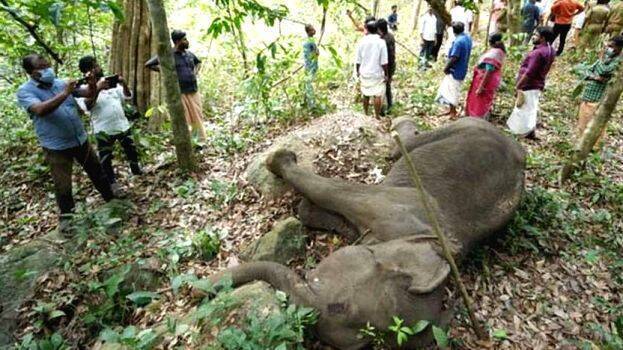 KOLLAM: The forest department said the death of the elephant at Karavoor in Pathanapuram is a murder. The forest guards have taken into custody three in connection with the incident. Renjith, Animon and Sharath, natives of Karavoor are those held. The authorities said the elephant sustained injuries after the cracker filled pineapple exploded in its mouth and it died later. The cracker is used to target pigs etc.
The elephant died on April 11 in Karavoor. The elephant was found with major injuries in its mouth. Though tried to treat her, it succumbed to injuries. Post mortem mentioned injuries due to cracker explosion. With this, the forest department conducted a probe.
The three held are hunters. They hid the cracker in the pineapple to catch Sambar deer, but it was the elephant that ate the pineapple. It was not even able to drink water after that. It was during this time the locals noticed the elephant. Though the elephant returned to the forest, it died later.
Two more has to be nabbed again. A case will be taken against them for hunting deer and python and killing them. Days before another elephant had died in Palakkad in an explosion. The incident made headlines in the national media and had stoked a controversy.