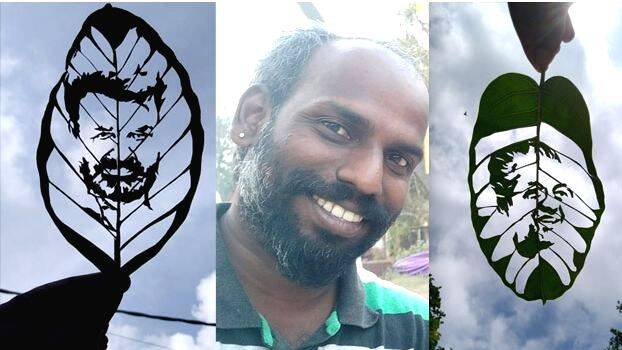 THIRUVANANTHAPURAM: Manju Warrier was fascinated to see her face on a banyan leaf. Expressing her gratitude to the artist, she shared the picture on her Instagram handle.
Mohanlal too received a leaf with his face on it amongst the birthday gifts he received. In a leaf, Mohanlal's Lucifer avatar could be seen on it. Mohanlal added the pic to his website. These artworks are created Jobilal of Alungal House in Vayalar's Kalavamkode.
Jobi has donned several roles to earn a living. First was that of a magician. Then he became a drama artist and an art director. As it was not enough for a living, he became an autorickshaw driver at the railway station stand in Cherthala. During the night time, he set up a food stall in Vayalar Shaktheeswaram. Jobilal is an active worker of Centre for Contemporary Artist in Kochi.
During the lockdown, he was forced to stay home and started drawing pictures. He posted his works on Facebook, but it only garnered a few likes. The thought of crafting pictures on leaves crept in later. There is no prior experience. But despite that, Jobi started his work.
First was the leaf art of Gandhiji which was well-received on Facebook. There are leaf works of Sree Narayana Guru, Lenin, Rajiv Gandhi, EK Nayanar, Pinarayi Vijayan, KK Shailaja, Kalabhavan Mani, and Prithviraj. His wife Praseeda and children Alakananda and Krishnendu are all but curious with these crafts.