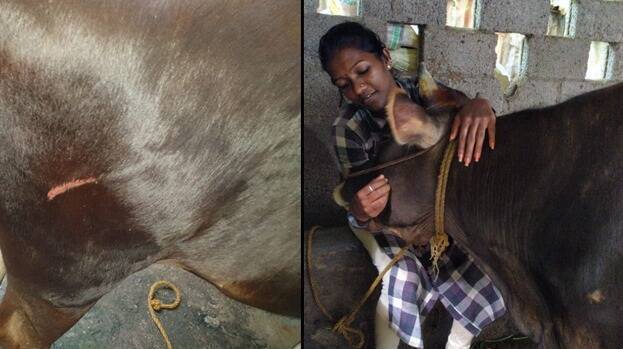 Every day many an animal suffers at the hands of human beings whether it is a wild elephant or a permanently tied-down pet dog. The sufferings of this voiceless beings rarely get reported.

The life of Neyyattinkara Kallikkadu Patayikonam native Biji has been miserable ever since his neighbour's alleged cruelty snuffed out the life of her domestic cow's baby even before its birth.

This 29-year-old house wife had got three cows under an SC/ST scheme of the Animal Welfare board. Her family called the youngest among them Mutthu, out of special love. It was this cow that turned the victim of her neighbour's cruelty. She was four-month pregnant.

Biji used to tie her cows to some tree in the Puramboke next to her house, allowing them to graze the grassy land.
According to a complaint lodged with Neyyar Dam police station, her neighbour Surendran, beat up Muthu with some rod or stick, causing bruise on her stomach. There was also contusion her genital area caused by poking with some hard material.

"The quarrel over planting of grass in the area had led to this cruelly. Earlier also on several occasions, he verbally abused me, calling my caste name," she alleges in the complaint, given on May 28.

"I can tolerate the abusive words he has hurled at me but never can I tolerate the cruelty he has shown to this poor being," she adds.

Biji says policemen who came after two days to inquire into the incident didn't talk in her favour but questioned why she had planted grass in Puramboke. "As there was no further action from the police, I went and met CI. He called both parties, chided Surendran and asked me to try for an out-of –the-court settlement.

As the investigation was going on, Muthu's condition worsened. She started crying. The vet was soon called in and forced delivery procedure was done. What came out was a stillborn calf.

After that Muthu cried for days, may be because she lost her baby...

The vet said that the foetal death might have happened due to the injuries caused on her body and genital area.

Now, Biji is a bit confused about what she should do next.

In our country the punishment for animal cruelty is very light. In most cases, the convict gets away by paying Rs 50 fine.

But this housewife is not ready to give up. "A case should be filed against Surendra. The outer world should come to know about his cruelty.. At least that, I should do for my cows," she says.