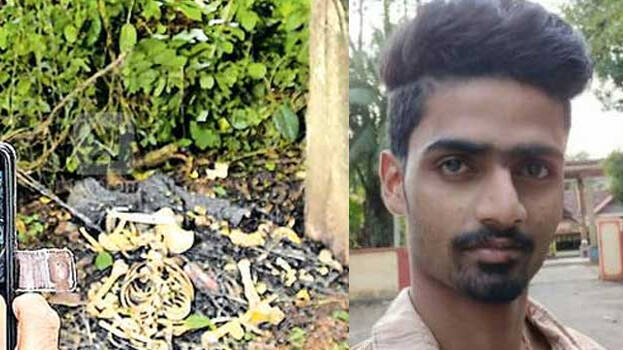 The preliminary investigation into the discovery of the skeletal remains of a man on Friday from an isolated property near MC Road at Mariyappalli in Kottayam give the hints that it could be the remains of 23-year-old Jishnu Haridas, a native of Kudavechoor in Vaikom.

Jishnu, who was an employee at a bar hotel in Kumarakom, had been missing since June 3. The policemen recovered two mobile phones, belt, footwear, shirt and jeans from the spot. They confirmed that the materials belonged to the missing youth but his families will soon come to verf. The skeleton was recovered from property owned by the Sahithya Prasadhaka Cooperative Society during a clearing of the thicket was being done for the construction purpose.

The skeleton was found under a tree with its head separated from the torso, leading police to think that he might have either hanged self or hanged by someone else.

Forensic experts have collected evidence from the location. The body was shifted to the Government Medical College here for post-mortem.

Meanwhile, Jishnu's family has demanded a detailed inquiry into the incident. They said he was wearing a gold chain and since it is missing, the police have started the search for it.

The Chingavanam police have registered a case for unnatural death. The police said the spot is notorious for drunken brawl and presence of drug addicts.