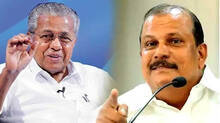 THIRUVANANTHAPURAM: When Kerala politics is set to witness a post-Covid turmoil, PC George MLA, who is now a loner in politics, opens up to Kerala Kaumudi in an exclusive interview given to reporter Sai Krishna. He speaks about the future of Kerala politics, as well as his and Jose K Mani's political future.

What is the future of Jose K Mani, who has been expelled from the UDF?

His is a damned case. The Left will not be able to accept Jose K Mani. If he goes to the NDA, he won't be able make any impact on the Central Travancore region. It would be better if he goes back to the UDF or else his faction will go for a toss.

 Even if Jose K Mani returns to UDF, won't Kerala Congress be the party of P J Joseph? Will it not result in tussle during seat sharing?
I don't have the opinion that the strong Kerala Congress belongs to P J Joseph. Currently, there are nine Kerala Congress groups in total. Even if all of them come together, it will not have the strength of the old Kerala Congress. In the present circumstances, it would be better if all Kerala Congress groups stand together.

Have you got invite from PJ Joseph as he has done that to many other leaders?
At present there is no one eligible to invite me to his party. Many leaders have gone to his side but nobody is going to benefit out of it.

Will Piarayi Vijayan's good image in the public give continuance of governance for the LDF?
Earlier, women used to spurn comrade Pinarayi Vijayan. But the daily 6pm press conference has brought a sea change to their attitude.
His press conference is based on true facts and audits. The press conference is mostly watched by women sitting at home. The emotional distance they had with him is never there now. The press conference have given credibility to his government. However mere press conference won't be a deciding factor in Kerala politics.