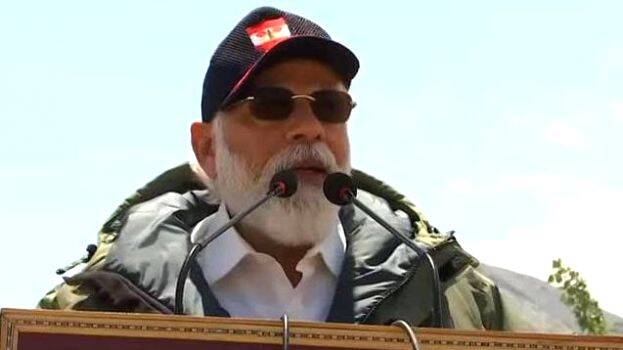 LEH: Prime Minister Narendra Modi addressed soldiers in Ladakh a few minutes ago after he made a surprise visit to a forward post in Ladakh on Friday morning.

Earlier interacted with troops days. This moves comes after the June 15 border clash with China in which 20 soldiers were killed in the line of duty. The Prime Minister's visit served as a morale booster for the forces and a powerful message to China, which has shown unrelenting aggression at the border with incursions spotted in satellite images.

Chief of Defence Staff General Bipin Rawat and Army Chief MM Naravane accompanied the PM as he toured the region, met with soldiers and was briefed on the face-off with China since early May.
Higlights of PM's speech
Your bravery and dedication is unparalleled. Your courage is higher than the highest regions where you all are stationed.
Bharat Mata's enemies have seen your fire and fury.
Your arms are as strong as the mountains that surround you. Your confidence, determination and belief is as immovable (atal) and the peaks here.
The conditions in which you all deliver your best are among the toughest in the world, and you have proven time and again that the Indian armed force is mightier and better than everyone else in the world. What you have done here, the message you have sent, is a message that has reached the world. It has been a bold statement.
I want to salute you all and all the soldiers who laid down their lives for the motherland. Every corner, every stone, every river and every pebble here in Ladakh knows it is an integral part of India.