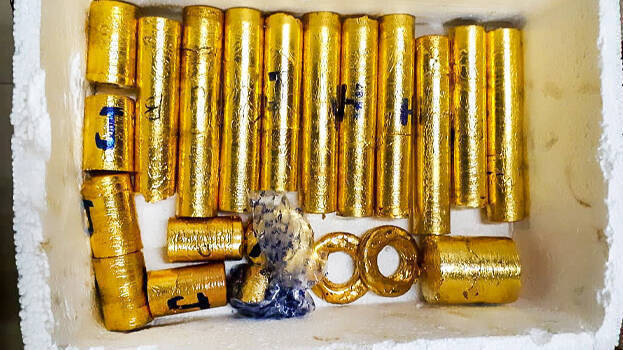 THIRUVANANTHAPURAM: The role of the government official who helped in smuggling 35 kilograms of gold at the Thiruvananthapuram Airport will be investigated. This official of the IT department has a role in the gold smuggling case and reports said she influenced the consulate in Dubai. The customs have obtained hints on it.
The state witnessed a biggest gold seizure at the Thiruvananthapuram Airport yesterday. 35 kilos of gold worth 15 crore were seized from the diplomatic luggage which came in a chartered flight from Dubai. The gold were concealed in cylindrical form inside pipes, faucets and an air-compressor.
Meantime, the UAE Consulate in India said they have don't have any connection with the gold smuggling. A former employee of the consulate is behind this and he was sacked from the job for his bad behaviour, a press release of the consulate said. Former PRO of the UAE Consulate taken into custody has been taken to Kochi. His arrest will be recorded after a detailed investigation. He had threatened the officers when he knew that the customs will examine the cargo.