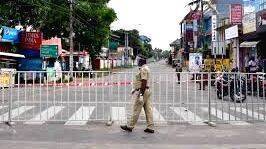 THIRUVANANTHAPURAM: Even as Poonthura has been completely locked down as it is seen as an area where there is super spread of Covid 19, the locals residents took to the streets on Friday in protest against curfew-like situation. The protest is in total violation of lockdown curbs.
Herds of people gathered even without wearing mask and blocked the health workers and police. They asked them for lockdown relaxations to buy essential commodities. They complained that the police were neither allowing them to buy essential commodities nor supplying the goods at homes.
They even said that the announcement that there is super spread in the area is a fake campaign.
Out of the 600 samples collected in Poonthura, 119 were confirmed with COVID-19 and strict lockdown has been clamped in the area since.
The government has beefed up security to ensure that people don't step out of their village. Patrolling has been held to ensure that fishermen don't venture out into the sea.

Rapid Action Force and gun-toting commandos havebeen deployed in Poonthura to make people aware about the seriousness of the situation.
In the morning, the police had a tough time, controlling irate crowds who even had an argument and tussle with the police.
Meanwhile, the locals complained that they didn't get mask, despite the government claim that one lakh masks have been supplied in Poothara area.