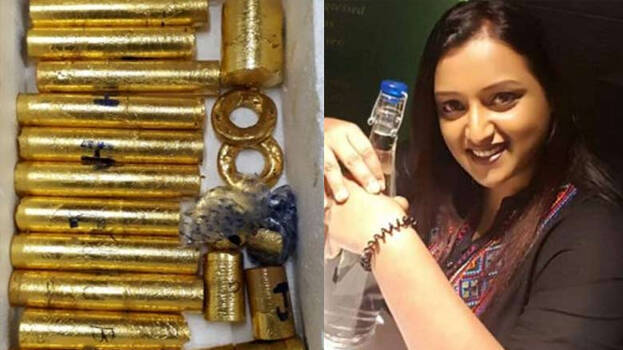 KOCHI: Gold smuggling accused Swapna Suresh has reportedly confessed to NIA sleuths that 150 kg gold was smuggled through diplomatic channel over the past two years. Sandeep Nair and Sarith are partners in the deal.
27 kg gold was smuggled on June 24 and 26 this year. During these days Sarith and Swapna made several mobile phone calls to UAE consulate representative Rasheed Khamis, who also called them back, according to the call list accessed by the NIA.

Sandeep also agreed to have smuggled gold a number of times through Thiruvananthapuram airport in the absence of Swapna and Sarith.
The gold was handed over to Moovattupuzha native Jalal and Perinthalmanna native Rameez most number of times. Sandeep said he didn't know to who all the gold was delivered.
Swapna and Sandeep said they didn't know that the gold was for terror activities. The NIA officials said they need to get more clarity on this statement.
Swapna said the reward they got was money and it was Sandeep who handled the money while Sandeep said he gave Swapna and Sandeep their share.
The NIA has asked the bank authorities to give the account details of the three persons.
Swapna and Sandeep agreed that it was Faisal Fareed who had sent the gold. They have met him in Thiruvananthapuram and Dubai.
Swapna said it was her mission to get the gold out of the airport safely.
The NIA has also got information about the role of a Malayali driver of the Consulate in the gold smuggling.
Meanwhile, the interrogation of Swapna got interrupted several times on Tuesday as she, who has low BP, expressed health discomfort and a doctor had to be called in to examine her.