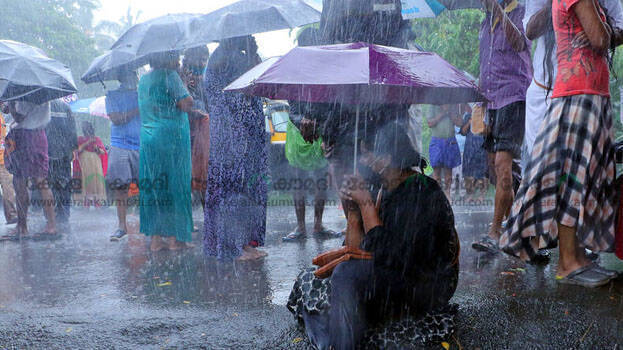 THIRUVANANTHAPURAM: Monsoon is intensifying in the state. DGP has directed police to be ready to face any emergency situation. He also gave directions to Armed Police Force. The DGP said rescue operations should be carried out only in compliance with COVID protocol.
Heavy rains continue in hilly areas. Rivers in Kozhikode are overflowing. Seven houses are flooded when Thottilpalam River overflowed. They have been evacuated. Mullankunnu Niduvanpuzha overflowed and flooded Janakikkad road. Fire Force rescued two people stranded near Janakikad.
The district administration has asked people staying along the banks of rivers to be vigilant as the rains are intensifying. A relief camp has been opened in Kottayam. Manarcaud Government UP School is functioning as the relief camp. 14 from four families have been shifted to this place.
Orange alert has been issued today in Malappuram, Kozhikode, Wayanad, Kannur and Kasargod districts and yellow in Alappuzha, Kottayam, Ernakulam, Thrissur and Palakkad districts. There will be rains in some isolated places. Rains from 115.6 to 204.4 mm will be obtained in 24 hours.
The rains that started on Tuesday night are still continuing. The low-lying areas of Thiruvananthapuram, Ernakulam, Idukki, Kollam, Alappuzha, Kottayam, Pathanamthitta and Thrissur districts were inundated yesterday. There were mudslides in many places. Transportation was disrupted after earth caved in on the railway track in Kottayam. A snake bit a fireman during rescue operations in Pambady. The state received 45 mm rains yesterday. There was heavy rainfall in south and central Kerala. However, there was no significant rainfall in the northern regions.