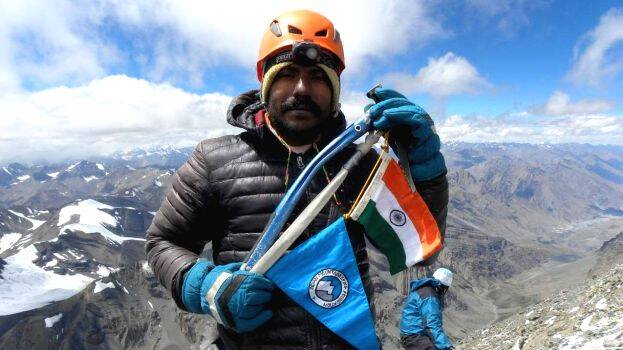 KANNUR: Maneesh's love for mountains is so deep that he even forgot to marry. In the past 16 years, this Kannapuram Idakkeppuram native has conquered 14 mountain peaks across India. He is trying to stitch together a record in mountaineering. The COVID pandemic came at a time when he was preparing to climb Mount Everest.
Many tried to discourage Maneesh from his adventures. Some asked how he is going to climb mountains with the experience of climbing trees. There were times when he had to struggle for breath at temperatures below -37 degrees. But that didn't stop Maneesh, son of Govindan and Meenakshi from Kavile Valappu, who carried the dream of climbing mountains right from his childhood. He was fascinated by mountains like Everest and Alps which he came across in the tenth standard.
Maneesh found the working capital for his expedition through daily wage labours. With this, he hiked the train to Delhi. He joined the basic course of mountain hiking at the Atal Bihari Mountain Institute in Manali in 2004. Two years later, he conquered the 17,100 ft tall Friendship Mountain in Manali in 30 days. Maneesh was the only South Indian in that 35 member team.
He understood that a basic course is not enough for hiking larger mountains. He completed different courses on mountaineering from the Darjeeling Institute of Mountaineering and Nehru Institute of Mountaineering.
Peaks he conquered:

Frey Peak-6096 m
Droupathi Kanthadanthadu-5644 m
Gangotri-2033 m
Aadu Garia-5850 m
Sivaling-6543 m
Jainoli-6633 m
Kharchakund-6632 m
Lahols Spiti at India-China border-5548 m
Rimo-7385 m
Nandadevi East-7485 m
Manirang-6594 m
Mulkila-6517 m
Kaska-6461 m