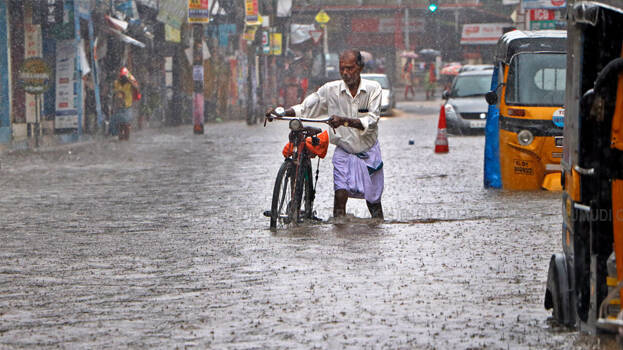 KOZHIKODE: Extensive damages have been reported in Kozhikode, Kannur and Kasargod districts following heavy rains and strong winds. Heavy rains started Tuesday night at 11.30 pm. More damages were reported in Kozhikode city. Trees uprooted at Puthiyangadi, East Hill Guest House, Kamburam, Kovoor, Malikkadavu, Karuvisseri, Bypass and near the Fathima Hospital. In some places, trees fell on the roads and electric lines. Transportation and power were disrupted due to this. The low lying areas of the city have been inundated. There were also strong sea swells along the coast.
A six-year-old-girl died after a tree fell on top of a house at Thavinjal in Wayanad. She has been identified as Jyothika, daughter of Babu of Walad Tholakkara Colony. Babu sustained serious injuries.
Three houses were damaged after a tree fell on top of it in the strong winds and rains in Kannur. Five sustained injuries. Passengers of a car were injured when a tree fell on top of it. There was no electricity for a long time in some places after an electric line snapped. A tree fell on a car travelling on the road near the Kannur fire station. The tree was removed and the passengers of the car were shifted to the hospital by the fire fighters. Transportation was disrupted for hours after a big tree uprooted on the national highway. Police reached the spot and diverted the vehicles. The tree fell just in front of a lorry. The tiles and roofing sheets of shops in the Kannur city were blown away by the force of the wind.
The Kannur fire station received several phone calls at the same time. Four unit vehicles from here rushed to various places and tried to solve the problem. The police and KSEB employees were active in averting accidents. Many trees uprooted and houses were damaged at Chervathur in Kasargod, Banthadukka in Thrikkaripur, Cheemeni, Rajapura etc in the heavy rains and strong winds.