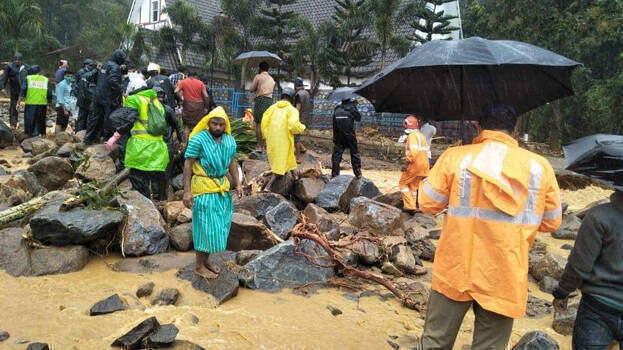 IDUKKI: A search is continuing for the missing people who went missing in a major landslide at Pettimudi in Rajamala in the district. 27 bodies have been recovered so far. The search which was stopped last evening resumed this morning.
Opposition leader Ramesh Chennithala will visit the disaster place today. Minister of State for foreign affairs V Muraleedharan will visit the place in the noon. Many including Minister M M Mani is in Rajamala.
Meantime, Dean Kuriakose MP alleged that the government showed discrimination towards the victims in Rajamala. Compensation should be given to those killed in the flight crash but the same consideration should be given to the people of Idukki also, he said.
Nine bodies were recovered yesterday. The official explanation the other day was that there were 78 people when the accident happened. However, reports came in mentioned that nearly 83 people, relatives of some, also met with the accident. So, 45 more people have to be found. 12 were rescued earlier.
Post mortem of 18 bodies were conducted yesterday in a specially set up mortuary at Naimakkad Hospital in Rajamala. All the bodies were buried together in a big pit dug in the Rajamala Estate. The remaining bodies will be cremated today after the post mortem.