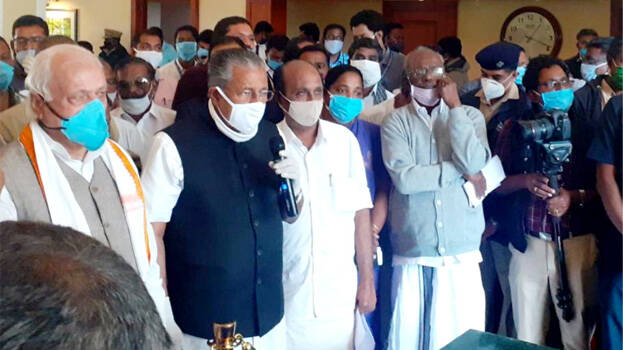 MUNNAR: The government will construct houses for all in Pettimudi, Chief Minister Pinarayi Vijayan told the media after the review meet convened in Munnar. He said all possible assistance to those affected by the disaster will be provided and will also bear the expenses of the injured.
'The rescue operation is continuing in a good manner. Workers are also expected to receive assistance from the company. Have discussed about it with the representatives of the company. The government will pay special attention to the poor condition of the settlements (layams). The government will also bear the educational expenses of the children,' he said. Governor Arif Mohammad Khan said what happened in Pettimudi is a major disaster. He said the President had called him after the incident.
The governor and the chief minister who visited Munnar this morning visited Pettimudy and interacted with the workers. Ministers E Chandrashekaran, M M Mani, T P Ramakrishnan, Dean Kuriakose MP, MLAs S Rajendran, E S Bijimol, DGP Lokanath Behera, south zone range IG Harshitha Attalloori, IG Yogesh Agarwal, district collector H Dinesan and SP R Karuppaswamy accompanied the two to the disaster area.
The chief minister reached Rajamala after many political controversies. The opposition and the BJP had harshly criticised the chief minister for not visiting the Pettimudi accident spot. The two had visited the Karipur disaster area. Opposition leader Ramesh Chennithala and Union Minister of State V Muraleedharan had visited the spot. There was also a controversy on the compensation announced for the victims.
Financial assistance of Rs 5 lakh was declared earlier for the victims. The massive landslide hit Pettimudi last Friday and claimed the lives of nearly 55 people.