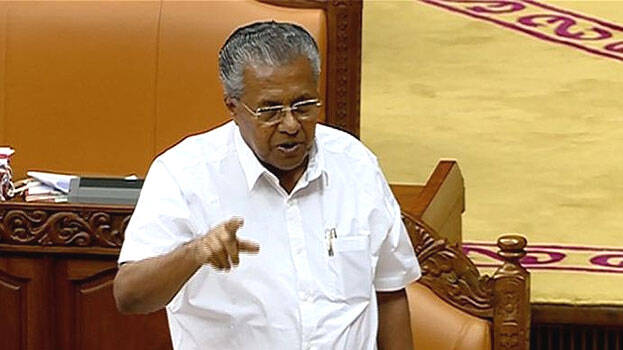 THIRUVANANTHAPURAM: On expected lines, the no-confidence motion moved by the Congress-led UDF was defeated easily by the Pinarayi Vijayan government in Kerala, but all the corruption issues raised by the opposition were sidestepped by the Chief Minister in a nearly four-hour-long speech, where he read out the progress card of his government.
The CM reiterated that the government does not have any involvement in gold smuggling and has not protected any culprits involved in the crime. The Principal Secretary was suspended as the government wants to ensure that all the accused in the gold smuggling case face legal actions, he added. He also said that the opposition is trying to create unnecessary confusions regarding Life Mission project and other projects.
Vijayan gave a clean chit to Jaleel and said that he had done no wrong. "It was the UAE Consulate which contacted Jaleel and gave food kits and the holy Quran, which he distributed. He has done no wrong at all," said Vijayan.
Vijayan read out his government's achievements similar to that of a progress report and on numerous occasions, the opposition members expressed their ire as they waited for the CM's response on the various corruption cases. He also took the opportunity to accuse Congress leaders of conspiring with BJP against the government. "Now one doesn't know if the Congress is the B team of the BJP or vice-versa. Everyone knows that they are hand in glove and the BJP state president is spreading canards against
the government. All the allegations are baseless and the people of Kerala know us and we also know the people. Likewise, the people also know the present opposition," said Vijayan.
According to the CM, the UDF came up with a no-confidence motion in order to hide the disturbances within their front. Like on a few earlier occasions, Vijayan again raked up the solar scam which took place during the Oommen Chandy government, where a conwoman, Saritha Nair, used a few staff of Chandy to cheat investors promising them solar panels. "We all saw the shameful incident of a Chief Minister (Chandy) sitting before a judicial commission. Such a thing had never happened before in Kerala. Also, everyone knows how
Nira Radia was making Cabinet ministers in the UPA government. We are not like them," said Vijayan.