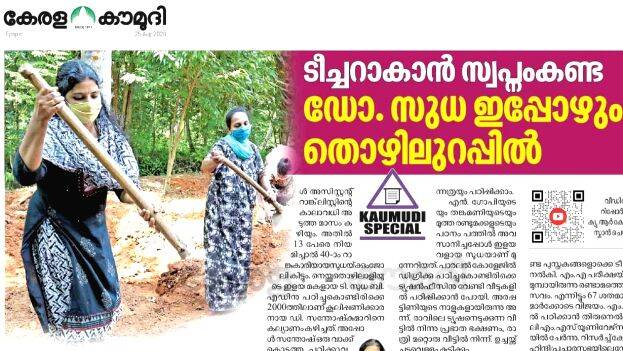 THIRUVANANTHAPURAM: Keralakaumudi recently reported the ill fate of Dr T Sudha, who has to go for work under National Rural Employment Guarantee Act despite holding rank in PSC rank list. She has also secured B.Ed, MA, Phil, and Ph.D. Opposition leader Ramesh Chennithala read this and even amid the political controversies paid a visit to Sudha's house in Kanjiramkulam panchayat. He then dialed education minister Prof. C Raveendranath and PSC chairman MK Sakkeer and requested them to take necessary actions.
The minister said a decision will be taken in favor of Sudha by extending the HSA rank list or by creating super numeri vacancy. Chennithala also requested the PSC chairman to consider this as a special case. He will also write to the chief minister regarding this.
The opposition leader came to Sudha's house at around 4 in the evening. Sudha was surprised to see him and welcomed the leader along with her kids Abhitha and Bibhitha. Suganthi and Vijayakumari, Sudha's colleagues at work under National Rural Employment Guarantee Act, also came to see opposition leader.
"I felt sad after reading about Sudha in Keralakaumudi. I am a person who passed the Hindi Visharad exam", Ramesh said. Ramesh Chennithala was accompanied by DCC president Neyyattinkara Sanal, M Vincent MLA, block panchayat member Bindu, local leaders Sivakumar, Lenin and Sarasan.