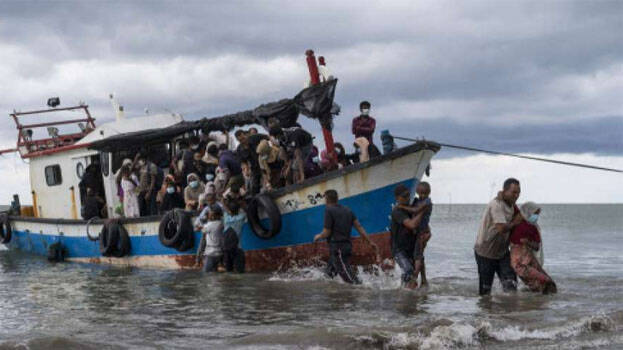 JAKARTA: A boat carrying Rohingya refugees, 297 people which includes 14 children stranded at the sea for the last six months has reached the coast of Indonesia.
The refugees bound for Malaysia set sail from southern Bangladesh at the end of March or early April but were turned back by both Malaysian and Thai authorities because of coronavirus restrictions.
The boat contained 297 refugees including 14 children
About 100 Rohingya, mostly women and children, arrived in the same area in June in two groups, after what they said was a four-month sea journey during which they were beaten by traffickers and forced to drink their own urine to stay alive.
About 30 migrants in the original group were believed to have died at sea.
The first port of call for many of the Muslim Rohingya fleeing Myanmar (also known as Burma) is neighbouring Bangladesh, where about a million now live in squalid conditions in refugee camps.
Traffickers have preyed on refugees there, offering passage to Muslim-majority Indonesia and Malaysia.