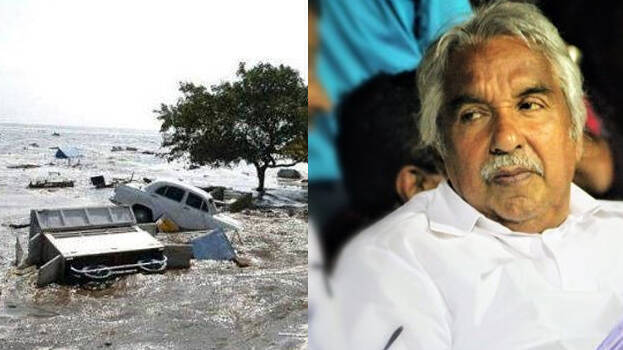 Whenever an issue affecting the people arises, Oommen Chandy will reach there soon and he will only go back after resolving that. He is a statesman who has the extraordinary ability to resolve any issue. "The way Chandy addressed the uncertain situation created by Tsunami which hit the Kerala coast in 2004 is the ample demonstration of his skills as an able administrator," Congress leader and MP K C Venugopal remembered Oommen Chandy's contributions on his 50th anniversary as a legislator in Kerala assembly.
One day, Oommen Chandy's call came to me, "Minister K R Gowri Amma is stranded at Alappuzha beach due to violent waves. An uncommon phenomenon called Tsunami has happened. Thousands of people are facing grave danger due to high and violent waves. The situation is precarious at Azhikkal and Arattupuzha. Venu should come to Arattupuzha immediately." I postponed my pre-determined trip and set out for Arratupuzha. When I reached there, the coastal village was swept off by violent waves. Cry for help, echoed everywhere. Arattupuzha resembled to a battleground with the debris of homes and buildings spread all over the place. Everybody was struck by the unexpected wrath of nature. It was at this time that Oomen Chandy arrived there. The chief minister asked authorities to open a control room and made arrangements to get the needed help. Within hours relief camps were opened.
It was the biggest calamity faced by people in Kerala's coast. The 'crisis manager,' in Oommen Chandy became active. Kerala didn't have any past experience in tackling a calamity of such magnitude. There were no rules or conventions. Oommen Chandy camped at the disaster sites for days. Oommen Chandy walked from Alappadu to Azhikal in Kollam district. He consoled everyone who were found on his way. He didn't even stop his journey after his sandals broke. He spent day and night coordinating the activities of officers at different levels, from village officer to chief secretary. He also actively intervened to remove the legal blockades for the rehabilitation of the victims. Chandy has a natural ability to find practical solutions to all issues faced by him. If there exist legal hurdles he will change the existing law, that's his style of administration.