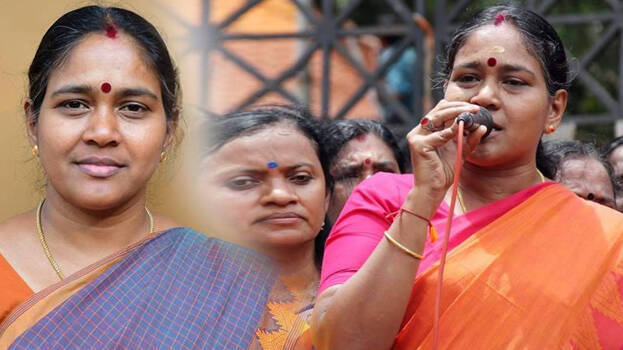 THIRUVANANTHAPURAM: In the previous Lok Sabha elections, Shobha Suredran who contested as NDA candidate made an unexpected advancement in the Attingal constituency. Her vote share in Attingal matched with that of the vote share secured by BJP candidates in Thiruvanathapuram, Thrissur and Pathanamthitta constituencies, which were branded as A plus constituencies by the party's central leadership. The party was able to make such an advancement only because of her personal charisma.
However, after the polls, BJP central leadership shifted her to the national leadership in Delhi. This was necessitated by the state leadership as they elected Shobha Surendran to the national panel, made for strengthening BJP's membership drive in the country.
After the Lok Sabha polls, along with K Surendran, Shoba Surendran was also considered for the post of state party president. But he was able to garner support of party's national leadership through union minister V Muraleedharan. Now, especially when the gold smuggling case has shook the political realms in the state, party workers are realising the absence of a strong woman leader like Shobha Surendran. Including the Sabarimala agitation, Shobha was always at the forefront of protests against the government.
Now, reports has come out in the media, that Shoba's absence is due to the rift with the state leadership of the party. While K Surendran ruled out such reports citing that Shobha Surendran still continues as the vice-president of state's party unit, in the press conference held on Sunday. Meanwhile, sources close to the party state that Shobha is being considered for an important position in Delhi. Sources said that the positon is chief of national women's panel. Shobha is known to have close links with Amit Shah and Prime Minister Narendra Modi.