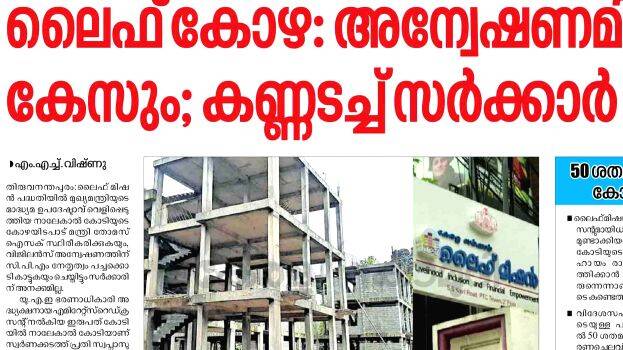 THIRUVANANTHAPURAM: The Kerala government has ordered a vigilance probe into the allegations regarding Life Mission bribery. The order regarding this was issued by Home Secretary TK Jose on Tuesday night. The order permits the vigilance director to probe any transaction in connection with the Wadakkanchery Life Mission project.
On September 10, Kerala Kaumudi had pointed out that the government seemed oblivious to the idea of ordering a vigilance probe even after finance minister Thomas Isaac and chief minister's media advisor confirmed about bribery of Rs 4.5 crore. The CPM state leadership had also advised the government to order for a vigilance inquiry.
It is learnt that gold smuggling case accused Swapna Suresh and her gang had seized Rs 4.25 crore out of Rs 20 crore that was given by UAE Red Crescent for rebuilding the houses of flood-affected people in the state.
While the first instalment of Rs 3.2 crore was entirely snatched by Swapna and gang, Rs 75 lakhs from the second instalment was transferred to the account of accused Sandeep Nair's company.