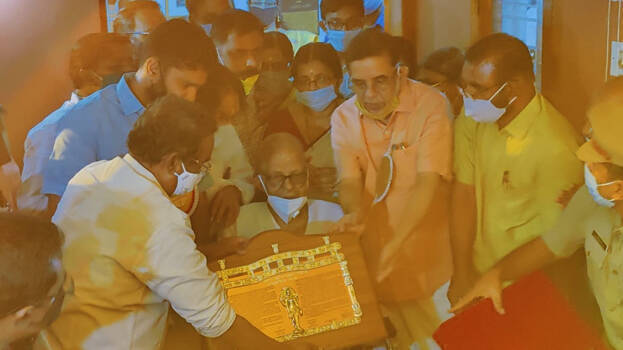 PALAKKAD: Poet Akkitham was granted Jnanpith award. In the covid-19 situation, Akkitham was granted this award under heavy security. The award was granted to him in a low-key ceremony held at his home in Kumaranallor. The award was presented to him by cultural minister A K Balan.
Chief minister Pinarayi Vijayan inaugurated the ceremony. Unconditonal love is the essence of Akkitham's poems. Chairperson of Jnanpith award panel Pratibha Rai, director of the panel Madhusoodanan Anand, M T Vasudevan Nair, E T Muhammed Basheer MP bid greetings to him via online.
After receiving the award, Akkitham's son Vasudevan read out the reply speech. Janapith is coming to Kerala for the sixth time. Akkitham's biography—Akiitham's Sachitrajeevacharithram was released during the ceremony. The book which also contains pictures drawn by his son Vasudevan, who is a well-known painter, was published by a company based in Delhi.