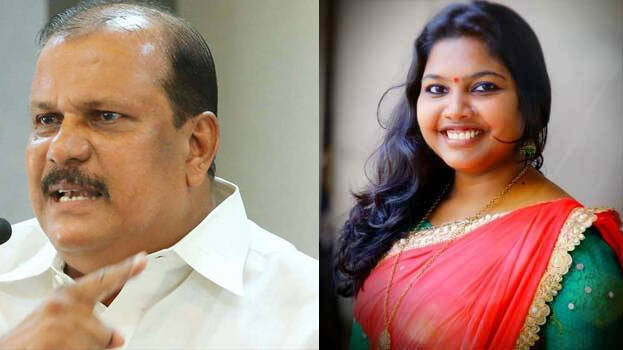 THIRUVANANTHAPURAM: Activist Sreelekshmi Arackal came forward with a reply to P C George MLA who harshly criticised them for manhandling Youtuber Vijay P Nair. Sreelakshmi told Kerala Kaumudi Online that she learned to hurl abuses by following P C George and that the generation including him should think differently.
Her words
P C George had asserted that the activists' husbands should have manhandled the Youtuber. I want to tell him that I don't have a husband and a father. Should I rent a person to attack him? We don't have husbands. We will call P C George if we face such a situation again. I am a citizen like him. Do you think only he can indulge in goondaism. He also hurls abuses.ട
P C George is a people's representative. We all grew up seeing him. I've seen him from my childhood days. I am following his footsteps. I used to get goose bumps when he hurls abuses. Everybody likes it. He wants us to enjoy his abuses but I can't do that. That's because we both have one constitutional right.
George said that he would have stamped Vijay P Nair to death. We did not go there to kill him. We went there as part of survival. We are not into any goondaism. I am glad to know that such a busy person like him gets time to watch my videos. If he wants to shoot me to death I am here in the capital city. If he comes, he can kill me.
In my life I have never drunk toddy. When a teacher like me says not to use drugs, I should set an example for it. I am not hurling abuses after taking drugs. Maybe George hurls abuses after taking it. I hurl abuses as part of defense measures.
I am talking about sex education and my personal sexual experiences. I am talking in the same manner as men. Why is it sex when men do it and prostitution when women do it? Everything including my whatsapp status is open. The children I teach are watching all this. None of my students have misbehaved with me. The new generation can accept this. But the older generation like PC George cannot accept this. People like him should understand this. I want a society where people like P C George think differently, she said.