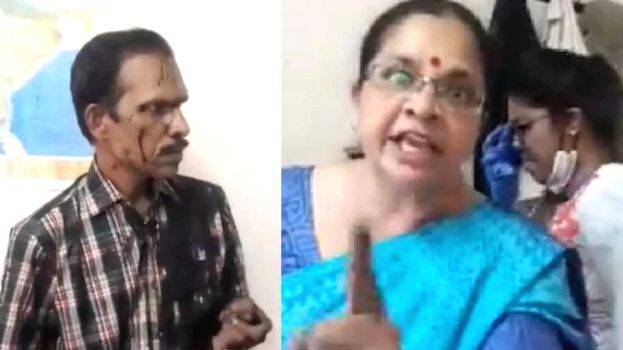 Peeping into others affairs is a mental problem. Unfortunately at least some of the Malayalis have come under its grip. Peeping into other's life and speak loudly and publically about their errors and mistakes have become their habit We are now faced with the sad truth that social are here not to unite but to vide people.
The manhandling of Youtuber Vijay P Nair by artiste Bhagyalakshmi and two women friends for posting sexist video on them had drawn the attention of entire society. His vulgur, repulsive and condemnable post is a big example of his pervert mind .
He has no right to peer into the personal life of others. His so called authentic post has no basis. What he has done is to vomit the rumours or allegation, creating the impression that he is speaking truth. Through that he has nothing else to lose but at the same time he will get a good revenue through his Youtube.
Meanwhile, Bhagyalakshmi is a reputed dubbing artiste known all over Kerala.
She faced her turbulent life with talent and ability and earned name and fame.
She is a woman who has the strength to protect herself. Her free life is her own. No one can question it.
What qualification has this person got for mud-slinging her? Not only that, anyone who hears him will have a repulsive feeling. Even those without hand will feel like bashing him with prosthetic hands.
This is may be the reason why Bhagyalaksmi and others unleashed their wrath by storming his office and terrorise him.
Moreover she has said that they had to go directly and act as their complaints to the police had fallen on deaf ears.
But she has to think whether posting the video herself or allowing live streaming of the tussle did sent a good message to society.
We have not forgotten the story of Adivasi man Madhu who was beaten to death by the moral police.
No one can justify the atrocities commtted by goons indulging in moral policing.
Nevertheless, taking law into their own hands is anarchy, be it in the name of anything.
A big artiste like Bhagyalakshmi should have taken that into consideration.
There are many young girls who consider you as role models, without your knowledge. She should not have forgotten that responsibility,
In the above incident, the police have taken a case against two parties. As per the existing laws here, that was inevitable.
At least for now, new laws should be made by incorporating new clauses to keep check on such vulgar posts.
Discussions should be there to prompt Youtube itself to start a centre to consider such cases.
Freedom of speech doesn't mean the right to speak anything about anybody. There should also be a strong campaign against badmouthing through the social media.
People who upload abusive posts covertly after hiding somewhere are basically cowards. In this case, there should not be a delayed justice. The government should also be alert to see that such things do not repeat.