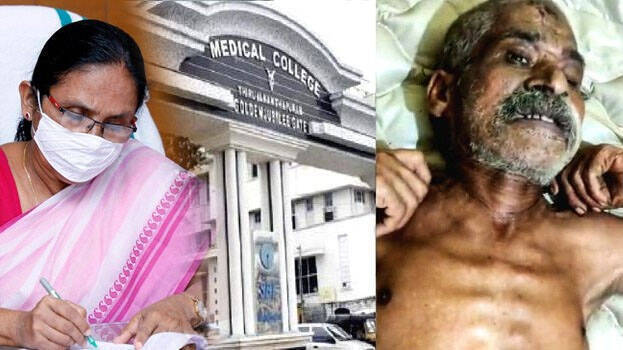 THIRUVANANTHAPURAM: Relatives of Anil Kumar (55) discharged with maggot infestation on his wounds, levelled serious allegations against the medical college hospital. His son Abhilash revealed that his father's hands were tied to the bed for nearly twenty days.
'My father informed this to me. Father's hands are seen parallel to his shoulders, he is not able to put it down. A man who could neither speak nor move his body was tied to the cot. Blood was taken from the elbow of the tied hand. The marks of it are still there. Food was not given on time. Though requested to discharge him before testing positive, it was not heard. Respiratory problems worsened after contracting COVID from the medical college'.
Anil Kumar sustained injuries after falling while climbing the steps at home. When he was shifted from Peroorkada Hospital to medical college, the doctors said that his condition is serious and a MRI scan is needed. A date was given after three days. They did not permit us to go outside and scan. The scanning report was obtained after days. They told us that he will be discharged on Saturday. At the time of discharge, they did not give us the treatment report. Only when we created a commotion, they gave us the report. A show cause notice has been issued to 10 employees including the nurses of the hospital, Abhilash said.
Anil Kumar was admitted at the Ortho ICU of MCH on August 21. When he was confirmed of COVID-19, he was shifted to the ward. When his oxygen level dropped, he was again shifted to the ICU. The doctor told me he was unlikely to survive. A written statement that he was in a critical condition was taken from me, said Abhilash. He was admitted at the Peroorkada Hospital when his condition turned worse. He is still in a serious condition. Abhilash said the doctors here also said that his father would not have had this condition if he had been given adequate treatment.
The complaint said they noticed the maggot infestation only after the discharge. His wife Anitha Kumari said the collar around his neck was tight and had led to a wound at the back of the head, and there were wounds on his shoulders too. These wounds were infested with maggots.
The State Human Rights Commission chief Justice Antony Dominic has directed the director of medical education and police commissioner to probe the incident and submit a report before October 20.
Meantime, the hospital authorities refused to respond on the incident.
'The best treatment is provided. We are trying to bring him back to life. Treatment is free,' said Peroorkada district hospital superintendent.