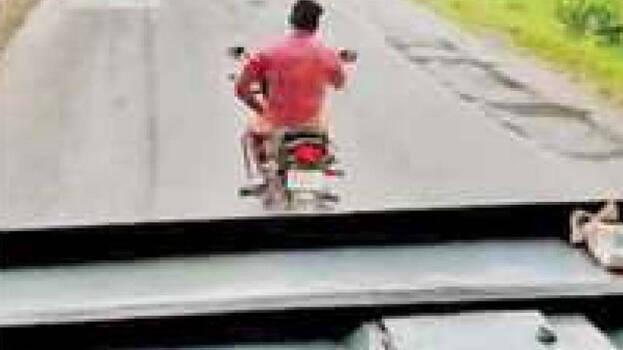 KANNUR: Motor vehicles department imposed a high penalty on the bike rider who obstructed a KSRTC bus for 5 kms in Payyanur, Kannur. Rs 10,500 was imposed on the bike rider. The evidence for this blatant violation of law was received from a video which became viral on social media.
The bus which was enroute to Kasargod from Kannur was obstructed by a bike rider. The event was held on 26th September. He didn't give a side to the bus for five kms from Perumba in Payyanur to Vellore. A passenger in the bus recorded the incident in his mobile camera. Following this, the ATO of the KSRTC depo concerned gave a complaint to RTO.
In the subsequent enquiry it was found that the biker rider's name is Praveen from Kottayimukku in Payyanur. The fine was imposed by the sub RT office in Payyanur. On Tuesday, he was summoned to the office for levying the fine of Rs 10,500 and also to warn him for his deed. It is also the first case registered in Payyanur RT office which started functioning from Tuesday.