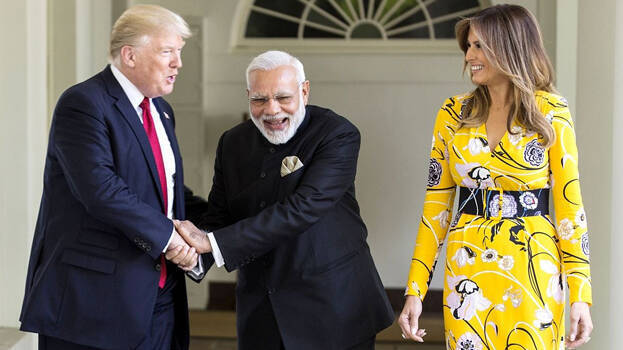 Prime Minister Narendra Modi on Friday wished a quick recovery and good health to his 'friend,' US president Donald Trump and first lady Melania, after the couple tested positive for coronavirus.
"Wishing my friend @POTUS @realDonaldTrump and @FLOTUS a quick recovery health," the prime minister tweeted just minutes after the US president announced he and his wife had tested positive for Covid-19.
Earlier, Trump had tweeted, "Tonight, @FLOTUS and I tested positive for Covid-19. We will begin our quarantine and recovery process immediately. We will get through this TOGETHER!"
The US first couple had undergone Covid-19 tests after one of Trump's closest advisers, Hope Hicks, testedpositive for the disease. The two returned positive result for the infection.
Praising Hicks, Trump had posted, "Hope Hicks, who has been working so hard without even taking a small break, has just tested positive for Covid-19. Terrible! The First Lady and I are waiting for our test results. In the meantime, we will begin our quarantine process."
Trump's handling of the coronavirus pandemic has emerged as a major issue ahead of November's presidential polls. During the first presidential debate on Tuesday, he was severely criticised by his Democratic Party rival, Joe Biden.