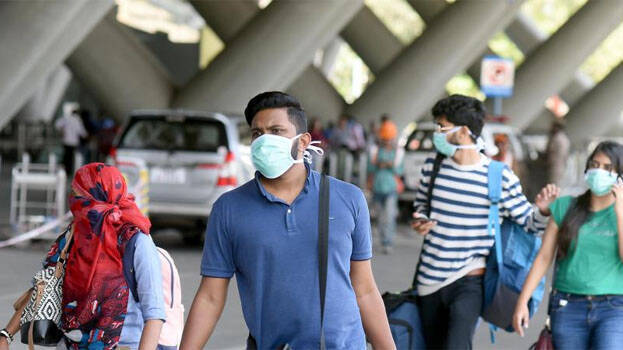 NEW DELHI: According to the Union health ministry's dashboard, India on Monday logged 74,442 Covid-19 cases and 903 related deaths which pushed the tally and death toll to 6,623,815 and 102,685 deaths respectively. The active cases have climbed to 934,427 whereas nearly 5.58 million people have recovered till now. The overall recovery rate stands at 84.13%.
As countries are ramping up their efforts to produce a vaccine against Covid-19 which will be effective and accessible to all, Union health minister Harsh Vardhan on Sunday said that the NDA-led government plans to receive and utilise 400-500 million doses of the Covid-19 vaccine by July 2021 in India.
The vaccine will be distributed based on pre-decided priority and in a programmed manner and it will be appropriately controlled to avoid any diversion or black marketing, he added.
Meanwhile, the global Covid-19 tally crossed 35 million with United States, Brazil and India being the worst-hit nations. United States President Donald Trump who tested positive for the infection on Thursday could be discharged to the White House as early as Monday, his medical team said.
Meanwhile, the United States' Covid-19 tally has climbed to over 7.6 million which includes 2,576,295 active cases, nearly 4.9 million recoveries and 214,610 deaths, as per worldometer figures.
South Korea has reported 73 new cases of the coronavirus, its fifth straight day of below 100, although officials expressed concern that could rise because of increased travel during a five-day holiday period that ended on Sunday, reports AP.
1,382 more people tested positive for Covid-19 in Germany, taking the total number of cases to 300,619 , data from the Robert Koch Institute (RKI) for infectious diseases showed on Monday. Five more deaths pushed the toll to 9,534, reports Reuters.
Democratic presidential nominee Joe Biden tested negative again for Covid-19 on Sunday in a polymerase chain reaction (PCR) test, his campaign said, according to a press pool report, reports Reuters.
Australia's coronavirus hotspot of Victoria will look into ways to increase testing for the disease to control its spread in anticipation of easing of the state's stringent lockdown restrictions, officials said on Monday, reports Reuters.
France on Sunday reported 12,565 new confirmed coronavirus infections over the last 24 hours, falling from the previous daily tally that had a set a new record. The total number of infections since the start of the epidemic rose to 619,190 cases, the health ministry said, reports Reuters.