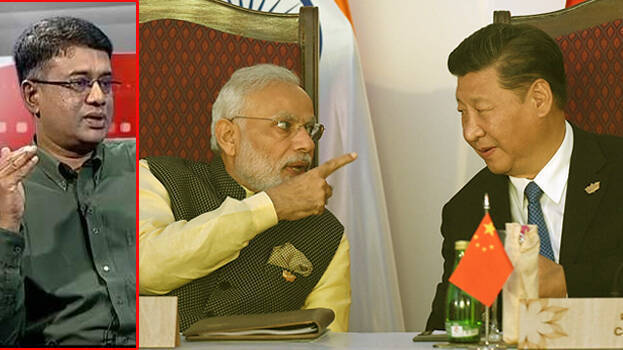 The issue of war with China is an existential question for India. Nobody knows its answer. There are certain clear reasons for a war to occur. The most appropriate time to attack an enemy is when he is facing problems. India has the most number of Covid-19 patients in the world and our GDP growth has shrunk to 23.9%. Therefore, China thinks that under this situation, India cannot bear the huge military cost of war. Even in Ladakh, India government is spending Rs 8,000 crore a month just for mobilising forces.
China before doing anything observes the actions of the US. They are concerned about the actions of the US. There is an old Chinese proverb—kill the hen to frighten the monkey. In the present situation, China is actually implementing it.
USA won't help
As India doesn't have any military agreements with the US, like Taiwan and Japan, the possibility of getting American help in the wake of the India-China war is very bleak. Under the present circumstances, especially when its president Trump is undergoing treatment for Covid-19, there should not be any expectation for US help. China has a special interest in American politics and they will try to make Bidden as the next president.
If India decides to stay its military along the Tibetan borders, China would consider it as a provocative move. Daulat Beg Oldi, Darbuk–Shyok road, new Atal tunnel and other important road constructions in Ladakh shows that India can easily create a blockade on China's longest highway G-219. This highway has strategic importance to China as it provides easy access to Karakoram, Xinjiang and to Pakistan's CPEC corridor.
In the event of a war, India has the capacity to mobilise at least one lakh soldiers along the border. Meanwhile, due to long-distance, China would take much longer time than India for immediate military mobilisation. India can also employ trained army battalions like the Tibetan Special Force in the wake of a war-like situation.

Measures to prevent war
Anyway, it's better for China not to have the overconfidence that it can beat India. Here are some examples even though they defeated India in 1962, Vietnam, a small ASEAN country, has defeated China in 1979. India has also successfully resisted Chinese aggression at Nathu La (1967), Sumdorong Chu (1987) and in Dokalam (2019). It is a proven fact that paper armies do not win prolonged wars. Vietnam has defeated US, the United States have suffered severe setbacks in Afghanistan and Korea, these examples are more than enough to substantiate that fact.
Due to the 'one-child' policy, 'the little princes' in the Chinese army, who are the apple of eyes of two parents and two pair of grandparents may not be willing to fight. Most of the youngsters in the Chinese army is reeling under the mandatory military service rule.
In addition to that, the western media in India will celebrate the death of Chinese soldiers and thus Xi Jingping could lose his face which could even adversely affect his position as President.
If China suffers a major set back it could severely affect its military presence in Tibet, Xinjiang and inner Mongolia. Modi has also said that he has given many opportunities to Xi Jinping but now he has lost patience.
India has nothing to lose even if the trade relations with China is severed. We have already proved that China cannot de-stabilise us through disrupting supply chains in electronics and through APIs in the pharmaceutical sector. The onslaught of Covid-19 and H1N1 has shattered the food security of China and India is a major exporter of grains and other staple food to China. Therefore China knows that it cannot irk India in the long run.
Chinese companies cannot leave their sprawling Indian markets. The recent case of Huawei is the best example of it. If a war brokes out then all Chinese firms might have to leave India.
Therefore if India and China engage in war in Ladakh and Tibet, both parties might have to face adversities and uncertainties. But, war is unpredictable.