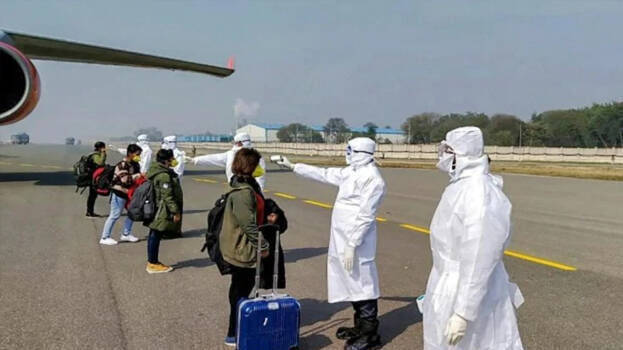 NEW DELHI: India on Monday witnessed a major drop of 54,265 new Covid-19 cases, taking the tally to 7,175,880 and the death toll reached 109,894. For the fifth day in a row, the number of active Covid-19 cases remained below 900,000.
Amid the surging novel coronavirus cases in his country, British Prime Minister Boris Johnson said there were some hopeful signs that a vaccine would be secured for Covid-19, but he warned that they must be realistic because it could not be taken for granted.
The global tally of coronavirus cases stands at 38,029,249. While 28,587,949 have recovered, 1,085,092 have died so far. The US, the worst-hit country, has 8,037,789 cases. It is followed by India, which has 7,175,880 cases, Brazil (5,103,408) and Russia (1,312,310).
Drugmaker Pfizer has again modified the protocol for its late-stage study of its vaccine against the new coronavirus, this time to include more young participants.

The company said on Monday that it's received permission from the Food and Drug Administration to include adolescents aged 12 through 15 in its global COVID-19 vaccine study.

New York-based Pfizer originally planned for 30,000 participants, but in September expanded that to 44,000 people. That increase was made to boost diversity in the trial population, specifically by including 16- and 17-year-old teens, as well as stable patients with some common chronic infections: hepatitis B, hepatitis C and HIV.
The National Health Commission of China said on Tuesday that 15 Covid-19 patients were discharged from hospitals after recovery on the Chinese mainland on Monday.

There were 228 patients still being treated, including one in severe condition, the commission said, Xinhua news agency reported.

Altogether 80,729 patients had been discharged from hospitals after recovery by Monday, the commission said in its daily report.

As of Monday, a total of 85,591 confirmed Covid-19 cases had been reported on the mainland, among whom 4,634 died of the disease.
Meanwhile, the coronavirus pandemic has shown there's a leadership deficit around the world, according to a survey which said more people trust companies over their governments to keep economies going during the crisis.

Over 70 per cent of citizens around the globe say they are experiencing the lowest point in their nation's history, while nearly two-thirds say their leaders are out of touch or "don't really care what happens" to them, the Milken Institute and the Harris Poll said in a report. More than 29,000 people from 27 countries participated in the 'The Listening Project' survey between February and October.
In Cuba coronavirus restrictions were relaxed Monday in hopes of boosting its economy, allowing shops and government offices to reopen and welcoming locals and tourists at airports across the island except in Havana.

Face masks and social distancing remain mandatory, although authorities will no longer isolate those who have been in contact with suspected cases as the island returns to a semblance of normality.

The popular beach resort town of Varadero will open to foreigners starting Thursday, with all tourists coming to Cuba facing mandatory testing and epidemiological monitoring while on the island.