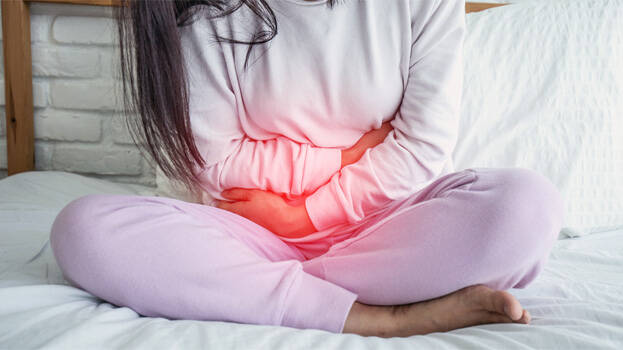 Urinary tract infection (UTI) is a wide term, covering from the presence of bacteria in the urine to fulminant urosepsis due to severe infection of the kidneys. This is the most common infection in the female. Nearly about 150 million people are diagnosed with urinary infection worldwide every year. About 50 % of women will suffer UTI during their life time. If it recurs more than three times in a year it is considered as recurrent UTI.

This condition is more common in females compared to males mostly due to anatomical difference in the lower part of the urinary tract. The tubular structure coming out of the bladder called urethra is short compared to the male counterpart and it opens to the anterior part of vagina. The close proximity to the back passage also adds to the bad situation. The common bacterium associated with UTI is Escherichia coli.

The usual symptoms are painful and frequent urination, with nocturnal frequency, feeling of burning and scalding when passing urine, change in the color of urine usually blood stained, pain in the loin, lower abdomen and back pain. When it affects our body with infection it will leads to fever and vomiting. If still not treated or not subsided by nature it can lead to systemic infection called sepsis.

If the infections severe or complicated ,or if the infection appears to be ascending into the upper urinary tract, admission into hospital for intra venous antibiotics may be required, as well as the possibility of the pathogen ascending into the upper urinary tract (pyelonephritis). Other sequel of UTI can be serious. These include abscess formation and repeat infections. Repeat infection can lead to renal scarring, which in turn may precede hypertension and end even chronic renal failure. Management of recurrent UTI is of paramount importance because repeat course of antibiotics to treat recurrent UTI, can result in bacteria developing resistance to the mechanism of action of previously effective antibiotics.

It is important to differentiate between recurrent UTI and incompletely treated one. The recurrent, mostly a reinfection with a different pathogen. Incompletely treated one, the women is more susceptible, because the bacteria are staying in the urinary tract due to some anatomical or pathological reason e.g. incomplete emptying.
Now day's adolescent girls are affected with this infection more frequently due to various reasons. Reluctance to pass urine at the proper time, lack of clean and proper wash room facilities in study sites, poor menstrual hygiene and sexual experiments during this period make them vulnerable for this infection. It is not uncommon to have a mild to moderate urinary infection during the early days of marriage. Sexual activity and mild trauma in the urethra is the cause of this. This is called "honeymoon Cystitis ". This may need antibiotic medications sometimes.The other two groups of women prone to get affected by UTI are the pregnant and post-menopausal women.

Pregnancy is a high risk condition to develop UTI. Apart from the classic symptoms, which was described earlier, pain and agony of the infection, with fever can lead to premature labor and delivery. Recurrent urinary infection can lead to stunted growth of the baby. Hence urine is checked frequently and in most clinics on every doctor's visit during pregnancy. Even without any urinary symptoms a pregnant lady can harbor bacteria in the urine and it is called "asymptomatic bacteria", can even lead to delivery before due dates, and poor birth weight babies. So proper identification and treatment of urinary infection is of paramount importance during pregnancy. Producing lot of issues due the preterm birth.

In menopausal women the lining of the vagina becomes thin due to lack of female hormone and also they loss protective bacteria which are defensive against infections and make them more prone to infection. Bladder sphincter weakness is also a contributory cause.

Proper antibiotic therapy in sufficient dosage and duration is the main modality of treatment. Clean catch urine collected in the middle of voiding called mid-stream urine is sent for culture and microscopy before prescribing. The antibiotic therapy should not be delayed awaiting the culture report if the physician is sure of the diagnosis.

Numbers of non-microbial modalities of treatment for urinary infection are coming up. Chinese herbal medicine Er Xian Tang found to be promising in few studies. Cranberries and Sugar containing in it D mannose have only limited role. Prevention of UTI by cranberry is not proven beyond doubt. Consuming Probiotic found to have some limited role in prevention of recurrent infection but all these need more proof. Urethral dilation has been done by several physicians as treatment for recurrent UTI.

Vaccine containing mixture of selected strains of common UTI producing bacteria is used in prevention of recurrent UTI; it is not available in our country. FDA not approved but used in UK on individual patients.

UTI is a notable problem affecting thousands of women. It provides a significant clinical and socio‐economic burden and is a cause of major psychological distress to the patient. Acute UTI needs swift assessment, diagnosis and treatment to prevent ascending or systemic infection. Recurrent UTIs are increasingly problematic. There is a great deal of heterogeneity in the management strategies used to prevent UTI, although the evidence is varied and generally of low quality. More research is needed to prove the safety and efficacy of newer treatments.

Dr. Vinoo Balakrishnan MD FRCOG, MRCPI
Consultant Gynecologist
KIMSHEALTH, Thiruvananthapuram